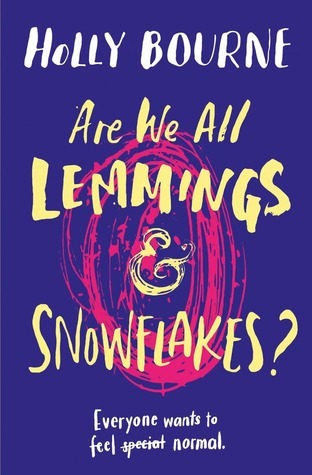 Title: Are We All Lemmings & Snowflakes
Author: Holly Bourne
Genre: Young Adult, Contemporary
Copy: ARC
Rating:
* More about the book.
* More about the author.
* More about the blog tour.
* Purchase via Amazon or Book Depository.
Synopsis:
Welcome to Camp Reset, a summer camp with a difference. A place offering a shot at "normality" for Olive, a girl on the edge, and for the new friends she never expected to make – who each have their own reasons for being there. Luckily Olive has a plan to solve all their problems. But how do you fix the world when you can't fix yourself?
Review:
I have only read two of Holly Bourne's novels so far (the first one being It Only Happens in the Movies), and I love how she seamlessly incorporates her advocacies for social change into her works in a manner that doesn't sideline them; rather, these ideas and messages are carefully placed front, center, and with just the right amount of in-your-face. Are We Lemmings & Snowflakes is not any different in that regard; at its heart, this contemporary novel thoughtfully and sensitively explores mental health.