I think I speak for all readers when I say that
authors are basically our pantheon of literary gods and goddesses
. They're our superheroes who constantly save us from the mundaneness and dreary monotony of everyday life. They're architects who create larger-than-life worlds and realms that we can easily hide in when the universe we're living in gets a little bit too overwhelming and tough to handle.
Most of all, authors are people – people we look up to and whom we draw inspiration from. Authors are unbelievably amazing and talented, that's for sure. Personally, I think that above everything else, what makes authors so awe-inspiring and godlike (or goddess-like) is knowing that they're not actually gods and goddesses – they're people. People who aren't very different from myself but have the capacity to create extraordinarily magnificent things and to do accomplish something 10-year-old me could only dream of: finishing a book and getting it published.
For this week's Top Ten Tuesday, which is hosted by the ever lovely Jana @ That Artsy Reader Girl, I will be naming 10 authors I would love to have a cup of coffee with (Of course, if given the opportunity and the free time, I'd love to meet as many authors as I can! However, for today, I'll only be mentioning 10 of them). More accurately, I'll be spending the next ten to fifteen minutes (depending on how quickly you read, honestly) throwing virtual hearts at some of the most incredible, most wonderful authors – with complementary virtual awkward fangirl flailing!
🌷 Rin Chupeco
2018 has been a year of discovering new favorites, and it was actually Rin Chupeco's The Bone Witch soon-to-be trilogy that ignited my curiosity, interest, and eventually, personal obsession with Asian-inspired fantasies. Aside from successfully luring me into the dark side, The Bone Witch also led to a mini-epiphany, that is, that I eventually want to write science fiction and fantasy books inspired and influenced by existing Filipino cultures. In other words, Rin Chupeco's books really challenged my perspective, and in doing so, changed me as a reader, as an aspiring writer, and as a person.
Related: 2018 & 2019 Asian-inspired fantasy books to drool over.
I would love, love, love to be able to sit down with her over a cup of coffee and talk about the upcoming final installment of the trilogy, The Shadowglass, the inspirations behind her books, insider info on her upcoming book, The Never Tilting World (and if she could maybe spare me the opportunity to read the book early – wink, wink), her experiences with writing while being pregnant, and how she manages to come up with the best tweets 24/7.
Plus, my hardbound copies of The Bone Witch and The Heart Forger have just arrived, and I would definitely kill (well, okay, I probably won't go that far) to have her sign them!
Related reviews: The Bone Witch & The Heart Forger by Rin Chupeco.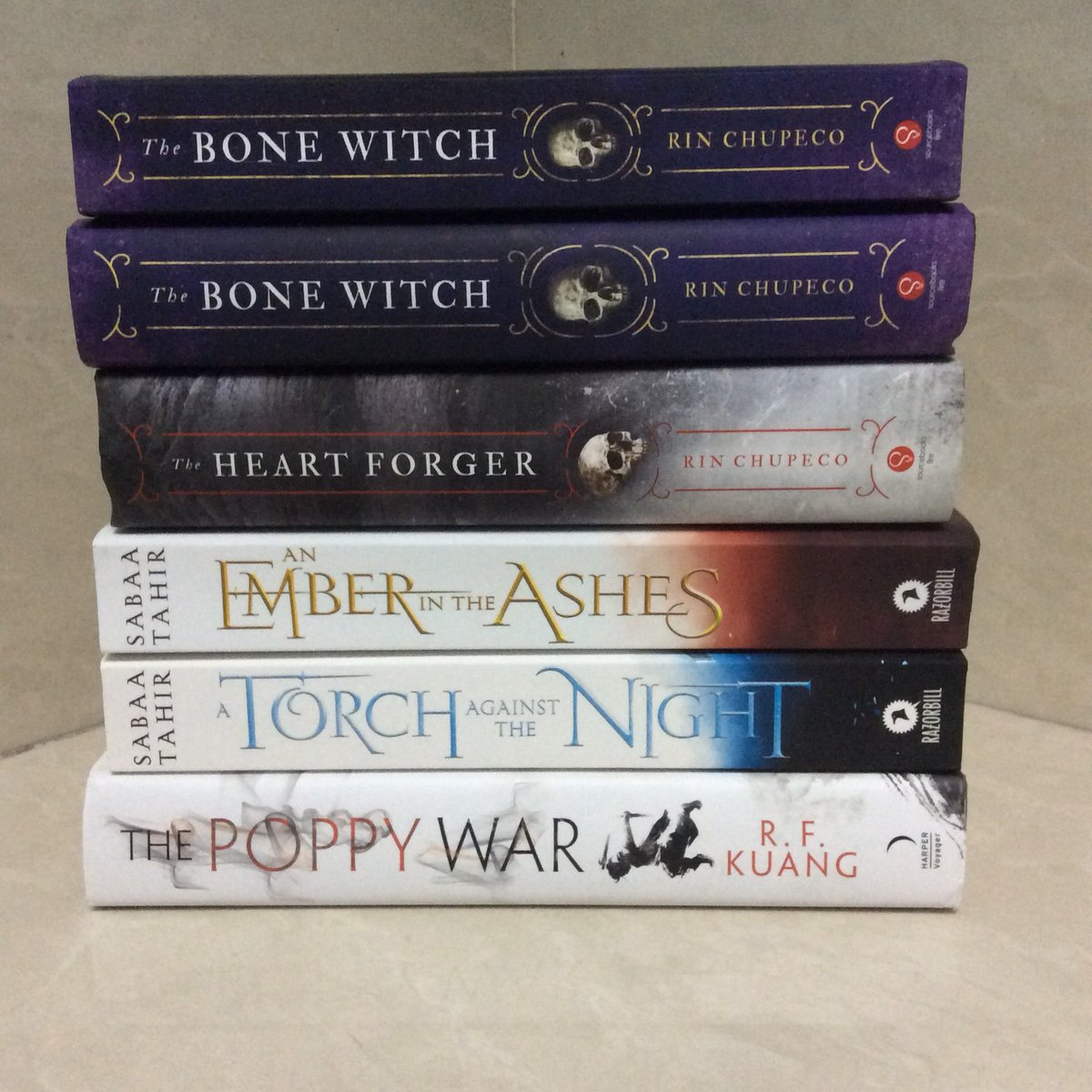 🌷 Julie Kagawa
Okay, seriously, how often do I mention Julie Kagawa on my blog? Probably far too often. Nonetheless, I consider Julie Kagawa both as my childhood hero and my all-time favorite author. It was her The Iron Fey series that had me latching onto the fantasy genre and never, ever letting go! I owe a lot of my present reading preferences to this wonderful, wonderful woman.
I'd probably be too stunned to maintain, much less begin, a casual conversation with Julie Kagawa over coffee. But in an ideal world where I won't faint at the presence of my all-time writing idols, I would definitely discuss the unparalleled emotional turmoil The Iron Queen put me through, as well as the endless love I have for her upcoming release, Shadow of the Fox. If I'm feeling braver than usual, I might also appeal to have a spin-off The Iron Fey novel where Puck and I end up falling in love – a girl can dream, okay.
🌷 Gail D. Villanueva
I've actually already met Gail D. Villanueva earlier this year in a local bookish event for Filipino bookworms. Together with a bunch of new bookish friends I made on that same day, we all had lunch and exchanged stories about college experiences and book covers we didn't like.
Related: Recap: My 1st #BookwormsUnitePH – book haul, photo grabbing, & an ARC giveaway.
Gail is definitely one of the sweetest, kindest authors I've ever met! She's so down-to-earth and easy to talk to. Plus, her upcoming middle grade debut, My Fate According to the Butterfly, is a book I'm extremely excited about because it explores the current economy and political atmosphere in the Philippines! I would love to have more opportunities to catch up with her: trade some more stories about Atenean boys, talk about writing and publishing, and shake our fists in outrage towards horrific book covers.
🌷 Joan He
Joan He is a precious human being and a gem of an author! She bestowed upon me the greatest blessing of all: the opportunity to read her 2019 debut novel, Descendant of the Crane earlier than (almost) everyone else. I don't know about you, but I wear that badge of honor with pride.
Even though reading Descendant of the Crane compelled me into completely abandoning my academic requirements and even though Joan's writing made me cry at least thrice (a fun fact that I always mention whenever I bring up Descendant of the Crane), I ended up loving her even more than I already did! Not only is her debut novel captivating and atmospheric, but the story is also interspersed with sneaky sexual innuendos and suggestive jokes that had me absolutely howling at 4 in the morning. It was then that I realized that Joan and I are kindred spirits.
Related review: Descendant of the Crane by Joan He.
I would absolutely love to meet her in person because I have no doubt that we would get along quite splendidly. Plus, this morning I discovered that Joan and I have the same age! Well, strictly speaking, I'm a bit older because I already turned 22 last August, while October is Joan's birth month. BUT STILL. This is a sign from the universe, I tell you!
🌷 Natasha Ngan
It makes me incredibly happy to see Natasha Ngan's debut novel, Girls of Paper and Fire, receiving a lot of positive attention because she really deserves all the praise and bookish love the world has to offer!
I was lucky enough to receive a physical ARC of Girls of Paper and Fire (which has been borrowed by my girl, Kate @ The Backwards Bookshelf) and wow, what a story! Girls of Paper and Fire delivered the soft, beautiful Sapphic love story we need, as well as a culturally rich world-building interspersed with multiple food descriptions that will have anyone drooling.
If I were to have a casual coffee date with Natasha Ngan, I would love to learn more about the inspirations behind her debut novel, what anticipating readers (aka me) should expect in the sequel, and I'd also like to discover what her favorite brew is.
🌷 Helen Scheuerer
I am an avid champion of Helen Scheuerer's The Oremere Chronicles – no exaggerations, I swear. I talk about her books all the time on Twitter and on my blog to the point that a handful of people have begun associating them with me (P.S. I'm not complaining).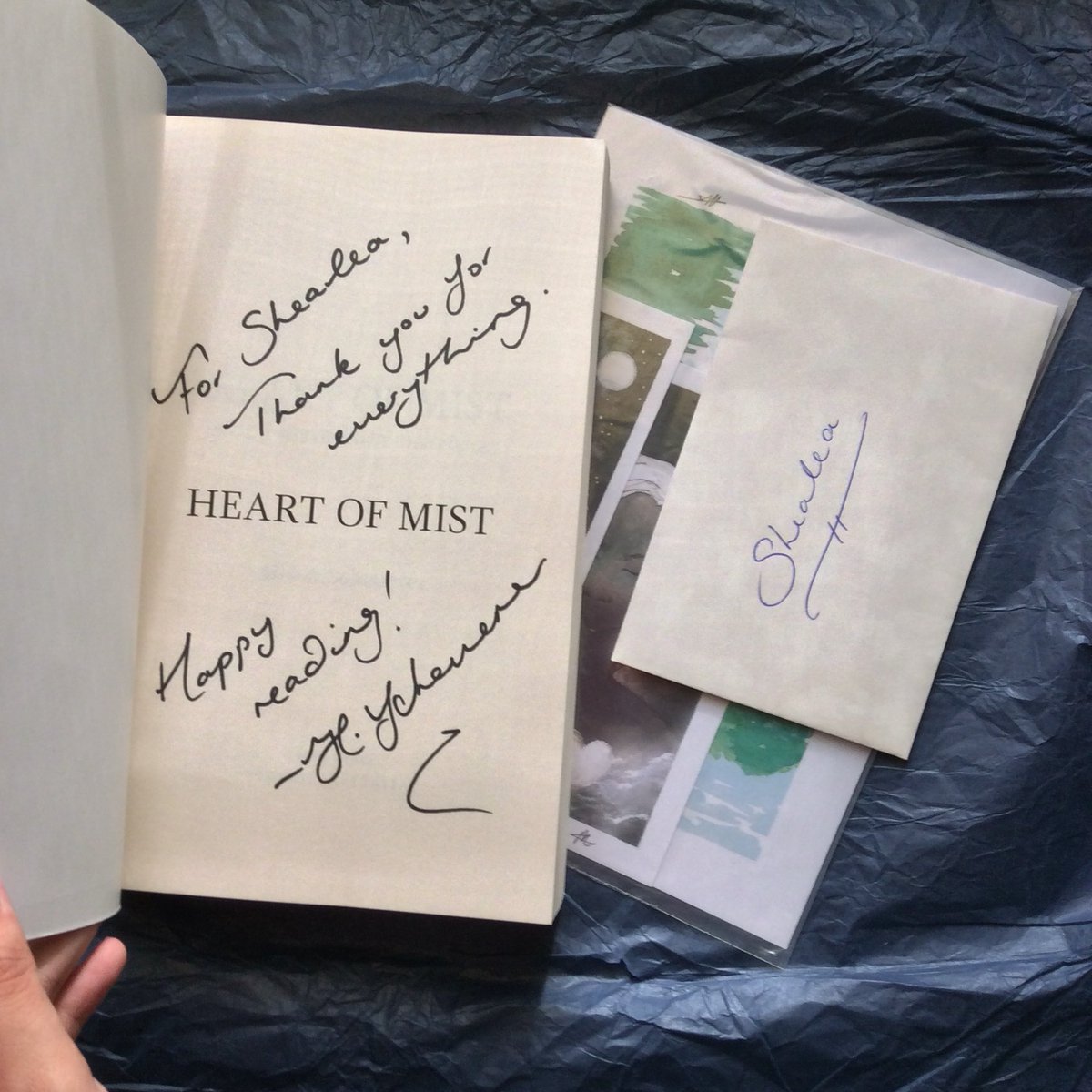 Last year, with Helen's guidance, I organized my first ever blog tour, which featured her stunning debut novel, Heart of Mist. It turned out to be a bigger success than I hoped, and that clumsy attempt at a blog tour eventually opened a lot more doors for me, which I will always be infinitely grateful for.
Related: 10 reasons to pick up Heart of Mist by Helen Scheuerer.
Just last month, I organized another blog tour with Helen – this time starring the riveting second installment of her series, Reign of Mist, which immediately became a best-seller upon its release date! With more than 30 participating bloggers and reviewers, the second #MistPH blog tour was my largest and most ambitious one yet! There are no words to express how thankful and humbled I feel that Helen has placed so much faith in me.
Related: 10 things to look forward to in Reign of Mist by Helen Scheuerer.
I've been very fortunate to have had multiple opportunities of working with Helen Scheuerer, and I hope to continue working alongside her as she takes over the world with her literary brilliance and wonderfully flawed characters. She's truly a joy to collaborate with, and I genuinely believe her YA fantasy series deserves a hell lot more recognition!
I genuinely think my coffee date with Helen Scheuerer could last hours! We can spend 5 hours on talking about Fiore Murphadias alone, if I'm being honest. I would love to learn more about her experiences as a self-published author, her travels, and when I can get my hands on the final book of The Oremere Chronicles!
🌷 Fonda Lee
I am so mad at myself for not having read Jade City sooner! It feels like I've been unknowingly asleep for most of my life, and now I'm awake and present and desperately anticipating the sequel, Jade War. Fonda's compelling wuxia-inspired fantasy series has really encouraged me to seek out more adult fantasy books! Plus, I've always preferred high fantasy over urban fantasy, but damn, Jade City had me biting my tongue and rethinking my preferences.
If I'm being totally honest, my love for her has no bounds. I would sacrifice my limb and a right kidney to have the chance at having Jade War in my hands(!!!). Speaking of which, if you're a U.S. resident, you can contribute to the cause combatting violence against women as well as receive a copy of Jade City and the ever elusive ARC of Jade War by supporting Read for Pixels 2018. If you're a kindhearted soul who wants to make my little Southeast Asian heart burst from abundant joy, then I highly recommend giving this bundle to me as a Christmas gift! (Worth a shot, right?) (But seriously though, fun fact: In the Philippines, Christmas is celebrated as early as September!)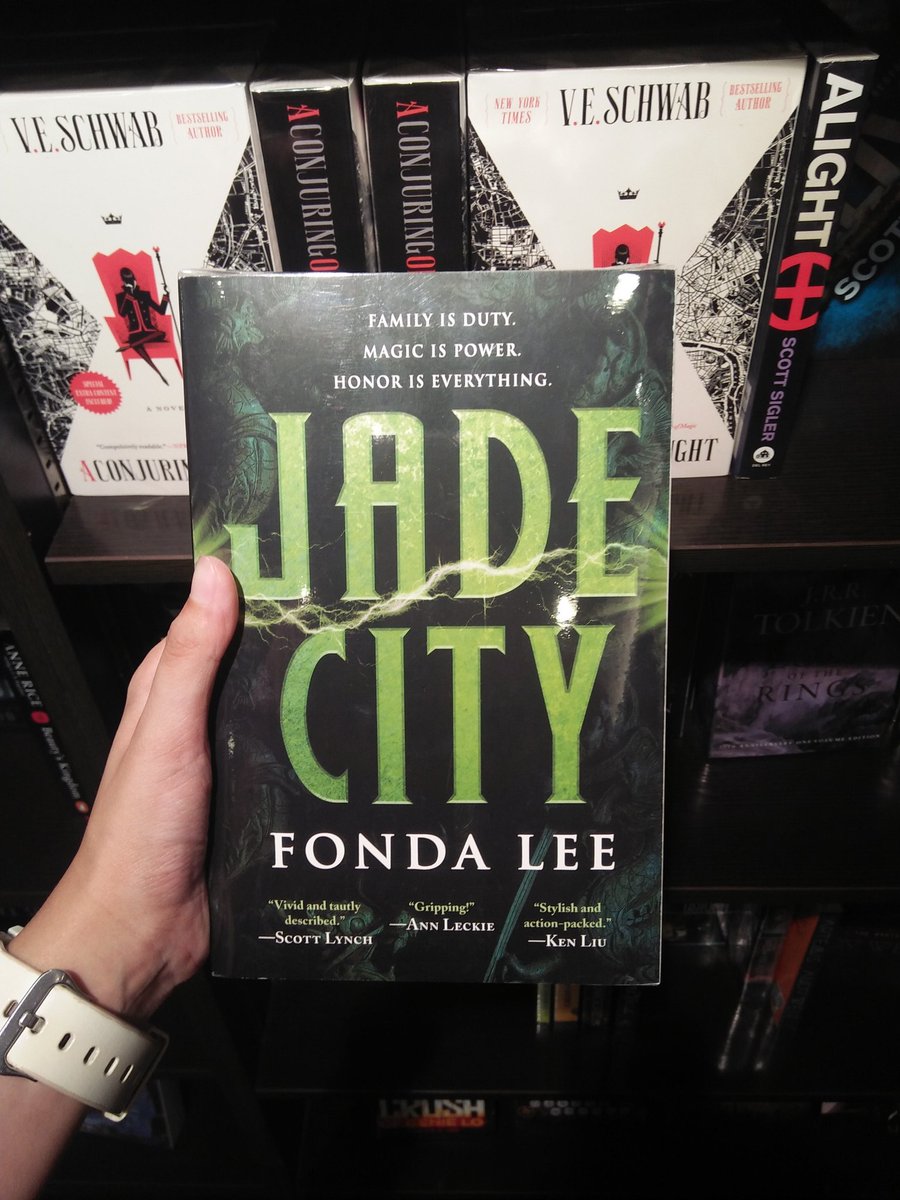 Over here we have a copy of Jade City by Fonda Lee that I spotted in a local bookstore but, unfortunately, was unable to purchase because I'm a broke bitch. Excuse me while I weep in the corner.
Above everything else, Fonda Lee is undeniably one of the coolest, most insightful, and most adorable author on Twitter! I love her social media presence so much, and I legitimately fangirl over every little announcement she makes. It's embarrassing, but totally true!
If I were to have a cup of coffee with Fonda Lee, I would probably prefer that she do all the talking while I simply bask in her glorious presence and write notes on all the nuggets of wisdom she'd impart with me. I don't think I have anything interesting to offer because she's just too cool in comparison and gah, okay I'll stop here.
🌷 Elizabeth Foster
Elizabeth Foster is another great, lovely author I was fortunate enough to work with. Esme's Wish is a book that doesn't fall under my usual go-to genres because it appeals to the younger end of the YA spectrum. Nonetheless, I thoroughly enjoyed reading all about Esme's adventures as she strives to find answers behind her mother's disappearance. I especially liked that Esme's Wish features a very dynamic friendship.
Related: 6 reasons to add Esme's Wish by Elizabeth Foster to your shelf.
I'd love to meet Elizabeth in person and to talk over coffee. She's been incredibly kind and supportive to me! I love her vibe and I love that she's so easy to talk to. I feel like we can talk about anything!
🌷 Lee Blauersouth
I sort of virtually met Lee Blauersouth by accident? I think I can consider it like that. I stumbled across one of their tweets (because someone retweeted it into my feed, if I recall correctly), I asked if they needed help with promoting their debut novel, and the rest was history! Lee Blauersouth's enthusiasm was very infectious, so it was a tremendous joy to work with them in organizing a blog tour for Secondhand Origin Stories.
Secondhand Origin Stories is undoubtedly the most underrated gem of a book I've read this year. If you ask me, it deserves to be catapulted into bestselling novel status pronto. Not only does the book offer thoughtfully done, much-needed diversity in the superhero genre, but Secondhand Origin Stories also delivers so much more: systemic corruption, complex family dynamics, large-scale social issues, power, friendship, and the list really goes on.
Related: 9 reasons why reading Secondhand Origin Stories by Lee Blauersouth should be on your priorities.
A coffee date with Lee would mainly involve me asking when the sequel will arrive, as well as inquiring how their background in psychology helped in shaping the characters in the novel. There are a lot of complex ideas in Secondhand Origin Stories that I'd just love to unpack and discuss!
🌷 Sarah Glenn Marsh
I fell in love with Sarah Glenn Marsh's writing while I read her beautifully lyrical debut novel, Fear the Drowning Deep, which is the first historical fiction novel I've ever adored! Sarah must have some serious magic because prior to Fear the Drowning Deep, I actively avoided the historical fiction genre at all cost. But all that's changed now! Yay!
Related review: Fear the Drowning Deep by Sarah Glenn Marsh.
Although I have yet to finish reading Reign of the Fallen, I am happy to say that there's a side character in its sequel, Songs of the Dead, who is named after me. That and my name is mentioned in the Acknowledgements page!!! I don't know about you, but that's one of my biggest dreams as a book blogger and a reader (so thank you very much, Sarah, for making this little Asian girl's dream come true!).
Aside from making two of my book blogger dreams come true (i.e. having a character named after me, having my name acknowledged in a book), Sarah is a total sweetheart who loves Eevee as much as I do! I can easily imagine us bonding over books, Pokemon, and a whole bunch of other things while we talk over coffee.
Let's talk!
And there you have it – 10 authors I'd love to meet and get to know better over a cup of coffee. Of course, there's a seemingly endless list of authors I'd be honored to personally meet. This is just a warm-up – wink, wink.
In any case, I'd like this blog post to serve as a reminder to let authors know that you love, support, and appreciate them. Being an author is tough, and at times, disheartening. While it isn't our job to cheer people up, it's a great, thoughtful gesture that can easily make someone's day, or even someone's whole week!
🔹 Are any of these 10 authors familiar to you? Have you read any of their books, and if yes, what did you think of them?
🔹 If you could hang out with any author and get to know them over a cup of coffee (or tea, if that's more of your thing), whom would you like to spend time with?
🔹 Have you written a post for Top Ten Tuesday? Leave the link in the comments section below so that I can check it out as soon as I can! By the way, have you read my other TTT posts?
Like this post? Then share it on social media platforms (see buttons at the bottom of this post!) or maybe consider sending a cup of coffee my way?
Twitter: @bookshelfbitch ‧ Tumblr ‧ Instagram ‧ Goodreads ‧ Bloglovin'