Hidden gems
– when I read these two simple words as this week's prompt for Top Ten Tuesday
(a weekly meme originally created by The Broke and the Bookish and is now hosted by That Artsy Reader Girl)
, the type of post I wanted to write became immediately, instantaneously clear to me.
The #romanceclass community is a bookish community that's close to my heart partly because it is primarily made up of authors, writers, and readers who are Filipino like me, and largely because, through #romanceclass, I was introduced to both incredible books and incredible people.
Of course, if this is your first time encountering #romanceclass, I think it's best for me to define what #romanceclass books are. Basically, they're contemporary romance stories written primarily in the English language, have romance as their main plot, provide happy endings that'll fill our souls up with kilig, and have had the #romanceclass community involved in its publishing process. Most of these books feature Filipino main characters (YAS QUEEN!!!). For more specifics, check out their website.
With that said, for this week's Top Ten Tuesday, I will be sharing a number of #romanceclass books that you should probably maybe most definitely add to your TBRs and wish lists! (Personally, one of the things I love the most about these books is that they're fantastic, swoon-filled reads at a shockingly affordable price! So I'll be dropping price tags here and there.)
1. Ghost of a Feeling by Celestine Trinidad
I might have said this before: out of all the #romanceclass books I've read, Ghost of a Feeling is the title I most actively and most frequently recommend. Its story totally redefined my idea and definition of 'ghosting' – wink, wink. In my positively glowing review, I described the brewing relationship between Cris and Nathan as a quiet, steady romance that held promises of being there for each other no matter what, which I found to be really beautiful.
WHY YOU SHOULD READ IT: This is absolutely the perfect read if you're searching for a refreshingly honest, slow-burn medical romance or a poignant contemporary story that thoughtfully and sensitively explores mental health and the necessity of seeking help from the right people. Buy this book on Amazon for just $2.99!
Related: Bookbed's review of Ghost of a Feeling.
2. Better at Weddings than You by Mina V. Esguerra
Better at Weddings than You was my first 5-star read of 2017! Daphne, the story's main character, is admirably confident and unapologetically ambitious with an inclination towards schedules, spreadsheets, and planning. If my blog post on spreadsheet tips and hacks didn't clue you in already, I love spreadsheets and being organized!
WHY YOU SHOULD READ IT: Aaron's unparalleled charisma and sex appeal! Daphne's headstrong personality! Fantastic, wonderfully steamy sex scenes! Mouthwatering imagery of Filipino food! Honestly, the list goes on and on – but basically, Better at Weddings than You is perfect for you (1) if you're tired of overbearing alpha males and want a more emotionally attuned, sensitive love interest; (2) if you're looking for a sassy, career-oriented heroine who refuses to conform to society's expectations for women; and (3) if you want to read about mildly hostile strangers becoming perfectly matched lovers with out-of-this-world chemistry. Buy this book on Amazon for just $2.99!
Related: Cath's review of Better at Weddings than You.
3. Chasing Mindy by Carla de Guzman
I think the Capras family in Carla de Guzman's Chasing Mindy was an A+ representation of Filipino families: very-in-your-face, larger-than-life, and with just the right balance of overbearing and lovable. Mindy Capras is right smack dab in the middle of eight siblings(!!!), and even though I can't really relate to her on that aspect, I still strongly identified with her – and her love interest, Javier Tiangco – as they both struggled to find who they really are outside the shadows of other people.
Like I said in my review, Chasing Mindy is a cute, heartwarming romance set in one of the most magical places in the world and manages to thoughtfully explore struggles with self-image and self-identity.
WHY YOU SHOULD READ IT: Not all of us have gone to Paris (or could afford to go on a trip abroad, really), but despite that, Chasing Mindy offers an empowering message that, in my opinion, can resonate deeply with everyone. I highly recommend this book if you're interested in fascinating, well-developed character growth or if, like me, you still have tons of shit to figure out about yourself. Buy this book on Amazon for just $2.99!
Related: JM's review of Chasing Mindy.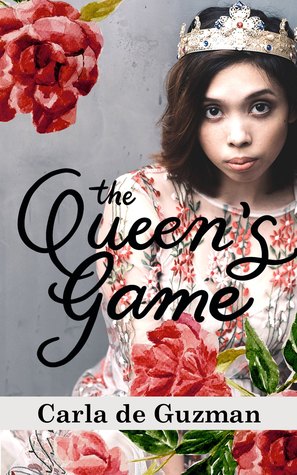 4. If the Dress Fits by Carla de Guzman
This book is #ownvoices for both Filipino and plus-size representation! And what's better is that this story offers a lot of much-needed body-positive messages, and its plot does not revolve around the protagonist, Martha, losing weight or experiencing weight issues. This is better articulated in my friend Kate's review of If the Dress Fits.
WHY YOU SHOULD READ IT: Read this if you're looking for a healthy, positive representation of fat characters, as well as a pretty endearing romance involving a cute veterinarian to boot! I would also recommend this if your favorite tropes involve fake dating and friends-to-lovers. Buy this book on Amazon for just $3.99!
Related: Sofia's review of If the Dress Fits.
5. The Queen's Game by Carla de Guzman
I've been eyeing this book and its gorgeous book cover for what feels like forever, and I was finally able to get a Kindle copy of it. I'm extremely excited to dive into this one, honestly! I mean, fake dating among Filipino royalty? A contemporary royal romance set in the picturesque provinces of the Philippines? SIGN ME UP.
WHY YOU SHOULD READ IT: If you're searching for a cute romance with a generous dash of political intrigue, drama, and scandals, I think you're in for a ride! Buy this book on Amazon for just $2.99!
Related: Leah's review of The Queen's Game.
6. Like Nobody's Watching by Tara Frejas
This is another #romanceclass title that I haven't read yet, but is currently sitting patiently somewhere in my TBR pile (oops?). However, Kate has been hyping up Like Nobody's Watching so much that I should really get to it. I trust this girl's recommendations with my life and my wallet! (And okay, this is another romance that involved fake dating/relationships – which is, if it isn't obvious yet – one of my favorite tropes ever!!!)
WHY YOU SHOULD READ IT: Because Kate recommended it, okay. That should be all the incentive you need to pick this one up! Buy this book on Amazon for just $2.99!
Related: Inah's review of Like Nobody's Watching.
7. Start Here anthology edited by Brigitte Bautista and Ronald S. Lim
This anthology is definitely the first of its kind: 10 meet-cute short stories about Filipino characters that are wonderfully, unapologetically queer. I liked this collection so much that I ended up presenting it in my Media & SOGIE (Sexual Orientation, Gender Identity, and Expression) elective! My favorite short stories from this anthology were In the Moonlight by Agay Llanera, Come Full Circle by Bobbi Moran, and Lemon Drop Friday by Brigitte Bautista.
WHY YOU SHOULD READ IT: Must I repeat myself? Start Here is a wonderfully, unapologetically queer anthology. If you're a reader of diverse books like me, this will definitely be a collection of short stories that'll make your heart feel warm and happy! Buy this book on Amazon for just $3.99!
Related: Cara's review of Start Here.
8. All's Fair in Blog and War by Chrissie Peria
I've been eyeing this particular #romanceclass title for what felt like the longest time. I was finally able to purchase a Kindle book, but I haven't gotten around to reading it yet. I'm very excited, though, because All's Fair in Blog and War follows the adventures of a protagonist who blogs about travel and a love interest who's a photo blogger.
WHY YOU SHOULD READ IT: In the mood for a lighthearted hate-to-love romance between two bloggers that will awaken the little travel bug in you? Buy this book on Amazon for just $0.99!
Related: Justine's review and playlist of All's Fair in Blog and War.
9. Iris After the Incident by Mina V. Esguerra
Iris After the Incident is relatively darker compared to most titles on this list. It's a story about Iris and her now-ex-boyfriend both hiding and recovering from their sex scandal. This is a pretty interesting premise to me because we hardly ever see stories where men are shamed for being sexually active so I'm very curious to read this one.
WHY YOU SHOULD READ IT: Mina V. Esguerra is one of my favorite, buy-without-question #romanceclass authors because she writes really well and has a knack of creating empowering, relatable female characters. She has yet to disappoint me! If you're in search of a New Adult romance with a strong, remarkable female lead, then Iris After Incident might just be your cup of tea. Buy this book on Amazon for just $2.99!
Related: Kaetrin's review of Iris After the Incident.
10. Making It Complicated by Clarisse David
This book is set in the transition period between of graduating high school and entering college, so the story has a bit of that "coming of age" element that not a lot of New Adult books explore. In my review of Making It Complicated, I described the story as "a whirlwind of fluttery feelings, summer vibes, hilariously brilliant banter, eloquently described sceneries, and undeniably explosive chemistry."
WHY YOU SHOULD READ IT: If you want your heartstrings tugged hard and swept away by the most adorable summer love story, then you and Making It Complicated would definitely make the perfect match! Buy this book on Amazon for just $2.99!
Related: KB's review of Making It Complicated.
11. You Out of Nowhere by Jay E. Tria
Kris and Ringo from You Out of Nowhere are one of my favorite #romanceclass couples! Their story begins as a meet-cute on a train, escalates into an accidental romantic getaway to Korea, and develops into a memorable, well-written romance with substance, cultural depth, and hilariously brilliant banter! As much as I enjoyed Kris' tough cookie career woman persona and Ringo's adorable nerdiness, I also really liked how You Out of Nowhere subtly explores the problematic aspects of Filipino culture. You can read about what else I enjoyed about this book in my review.
WHY YOU SHOULD READ IT: If romances between an older woman and younger guy are your type of thing, then you should read You Out of Nowhere. If you want to experience tourist fun in Korea all the while reading about Filipino culture from a refreshingly honest, very much relatable perspective, then you should read You Out of Nowhere. Buy this book on Amazon for just $3.99!
Related: Kim's review of You Out of Nowhere.
12. Beginner's Guide by Six de los Reyes
It's pretty evident that Beginner's Guide is one of the most popular #romanceclass titles there is, and I am embarrassed to admit that, despite borrowing Kate's copy of this book, I haven't taken the time to read it yet. Nonetheless, I can totally see why a lot of people have rushed to read this book. Beginner's Guide revolves around Kaye Rubio, a Molecular Genetics graduate student and research assistant, who tries to design a scientific, evidence-based methodology in order to find a suitable date in time for her cousin's wedding.
WHY YOU SHOULD READ IT: If you like New Adult romance, female leads from STEM backgrounds, romantic (and possibly literal – or is it theoretical?) chemistry, then Beginner's Guide might just be the perfect read for you. Buy this book on Amazon for just $2.99!
Related: Lacy Literacy's review of Beginner's Guide.
13. Another Word for Happy by Agay Llanera
As I mentioned earlier, Agay Llanera's In the Moonlight was one of my favorites from the Start Here anthology, and her short story featured the adorable Caleb. Caleb is actually the protagonist of her book, Another Word for Happy, wherein he struggles with coming out as gay. As he tries to learn more about himself, Caleb ends up doing things outside his comfort zone, such as joining a spoken word group.
WHY YOU SHOULD READ IT: The Philippines is a predominantly Catholic country, and the stigma against the Filipino LGBTQ+ community continues to thrive and cause harm until this very day. Another Word for Happy might be about a fictional character, but the experiences and feelings that Caleb undergoes cannot be so easily dismissed. Buy this book on Amazon for just $2.99!
Related: Shaine's review of Another Word for Happy.
14. Chasing Waves by Bianca Mori
This book is severely underrated. I say that because Chasing Waves only fell under my radar because of Kate. Prior to that, I didn't even know that this title existed.
WHY YOU SHOULD READ IT: One, because Kate recommended it, and naturally, we, as the common folk, must follow her like sheep. Two, this book revolves around a 32-year-old single mom making an effort to be a good parent. Three, according to Kate, Chasing Waves also tackles postnatal depression, which is something that isn't widely discussed in Filipino society. Buy this book on Amazon for just $0.99!
Related: Kate's review of Chasing Waves.
Let's talk about it!
✨ What do you know about #romanceclass authors and the community? Have you read a #romanceclass book before?
✨ Are any of the titles I've included on the list interesting to you? Will you pick them up? (P.S. If you purchase them via my affiliate links, I will receive a very small commission at no additional cost to you!)
✨ What are your favorite romance tropes? And what are your least favorite tropes? I'd love to know!
✨ By the way, I am doing a giveaway. I'll be buying one lucky winner three (3) #romanceclass books of their choice (not limited to the titles on my list!).
In order to enter this giveaway, just share this blog post on Twitter, making sure that:
— You follow me on Twitter (@bookshelfbitch).
— My Twitter handle (@bookshelfbitch) and the hashtags '#romanceclass' and '#TBBgiveaway' are included in your tweet.
— You're not using a giveaway/spam account. Otherwise, all your entries will be immediately disqualified from the draw.
— You mention at least one (1) #romanceclass book you're interested in, for an additional entry! Refer to this catalogue for more titles.
This giveaway will end sometime in October (it really depends on my mood, to be honest), and it's open internationally. You can share this blog post everyday (or however frequently you'd like) because the more entries you have, the more favorable your chances at winning become! Good luck and may the odds be ever in your favor!
Like this post? Then share it on social media platforms (see buttons at the bottom of this post!) or maybe consider sending a cup of coffee my way?
Twitter: @bookshelfbitch ‧ Tumblr ‧ Instagram ‧ Goodreads ‧ Bloglovin'