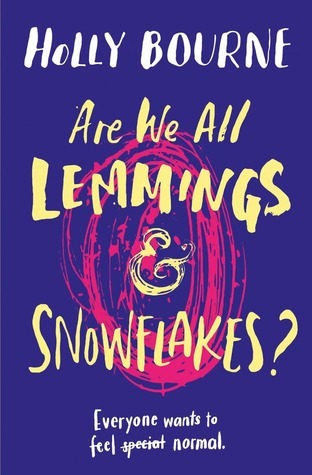 Title: Are We All Lemmings & Snowflakes
Author: Holly Bourne
Genre: Young Adult, Contemporary
Copy: ARC
Rating:
* More about the book.
* More about the author.
* More about the blog tour.
* Purchase via Amazon or Book Depository.
Synopsis:
Welcome to Camp Reset, a summer camp with a difference. A place offering a shot at "normality" for Olive, a girl on the edge, and for the new friends she never expected to make – who each have their own reasons for being there. Luckily Olive has a plan to solve all their problems. But how do you fix the world when you can't fix yourself?
Review:
I have only read two of Holly Bourne's novels so far (the first one being It Only Happens in the Movies), and I love how she seamlessly incorporates her advocacies for social change into her works in a manner that doesn't sideline them; rather, these ideas and messages are carefully placed front, center, and with just the right amount of in-your-face. Are We Lemmings & Snowflakes is not any different in that regard; at its heart, this contemporary novel thoughtfully and sensitively explores mental health.
Related book review: It Only Happens in the Movies by Holly Bourne.
Another thing worth remarking is how obviously well-researched this book was, which is not exactly a huge surprise considering the author's background in journalism. In fact, I learned a thing or two about mental sickness, including a mental illness I've never heard of.
But, of course, this book didn't revolve around facts and statistics. Instead, Are We All Lemmings & Snowflakes offered a compelling, nuanced narrative that was equal parts educational and entertaining. Much like her other novel, Holly Bourne has written excellently, knowing when to throw weight into her words and when to incorporate lightheartedness into her tone.
Despite the great writing style, however, I had my fair share of struggles as I read Are We All Lemmings & Snowflakes. For one thing, my reading experience was off to a very rocky start because, without warning, I was introduced to an opening scene that involved suicide ideation (I really hope content warnings will be added in the finished editions of this book). I was unprepared, taken aback, and just had to put down my copy for a while before I could continue reading.
Honestly, it took me a while before I was able to really invest in the story, but once I arrived at that point, I really could not put the book down! In fact, despite having a 10 A.M. class the following day, I stayed up until 2:30 in the morning because I was that determined to finish this book.
Suggestion: Subscribe to Amazon's Kindle Unlimited for unlimited access to books (including this title!) and audiobooks. First month is free!
One of the strongest assets of Are We All Lemmings & Snowflakes was its great cast of well-developed, endlessly fascinating side characters. I easily grew attached to them and felt empathy towards their respective plights – not just to the point that I wanted to know more about their lives, but also to the point that I preferred them, particularly Lewis and Sophie(!!!), over the actual main character, Olive.
It was very clear that Olive was a deliberately unlikeable protagonist who was written with empathy – but despite knowing this, I still largely struggled and felt frustrated with her decisions and arguably self-destructive tendencies. Being inside her head really challenged and stretched the extent of my patience, and to add to that, Olive's train of thought was quite jumpy, which was understandable but pretty difficult to read. Towards the end, however, her character did somewhat develop positively, and I admired how her growth was realistically portrayed and handled.
Aside from my personal struggles with Olive's character, I think the biggest letdown of Are We All Lemmings & Snowflakes was its open-ended resolution that struck me as far too abrupt and haphazardly written. I genuinely believe that I'm a black sheep here, but from a personal standpoint, the ending had too many loose ends, and considering all the events that transpired throughout the book, it was not a worthwhile payoff.
At this point, I think it'd be a huge understatement to say that I have mixed feelings about Holly Bourne's latest novel; but ultimately, I did appreciate Are We All Lemmings & Snowflakes and really admire the nuanced discourse on mental health that it aims to encourage other people to participate in. I also cannot discount the incredibly important messages and themes that this novel bravely and bluntly addresses, particularly its loud, resonating call for people to become kinder, both to others and to themselves.
All in all, Are We All Lemmings & Snowflakes is an important, poignant book written for teens and should definitely be read by all teens. I am confident that most people will enjoy this novel to a far greater extent than I did (I think I'm still experiencing a contemporary slump that's been making it more difficult for me to enjoy the genre – but I digress). Holly Bourne has done it again!
Disclosure: I received a physical ARC of Are We All Lemmings & Snowflakes as part of my participation in a blog tour organized by The Nocturnal Fey. This, however, affects neither my opinion nor the content of my review. Many thanks to Erika and Usborne Publishing for the opportunity!
---
Content warning:
Suicide ideation; mentions of self-harm, sexual abuse (of a minor), slut-shaming, and substance abuse.
---
Excerpt from the book:
Each word hits me lke one of those bullets that explode out on impact. Because the thing is, you know there's bad in the world. You're aware of it. You switch on the TV, or scroll through a newsfeed and there's doom and there's gloom and there's unfairness and there's horror but you don't always really take it in. But sometimes the world forces you to listen. Sometimes you hear something so awful that you can't scroll past it. And Gabriella's story is chilling my bones so cold I'm not sure they'll ever warm up again.
---
Are you a reader based in the Philippines who'd like to win a copy of
Are We All Lemmings & Snowflakes
by Holly Bourne?
---
Let's talk about it!
✨ What are your thoughts on Are We All Lemmings & Snowflakes and is it already in your TBR?
✨ What are your favorite contemporary books that tackle mental illnesses?
✨ Do you think kindness is contagious?
Did you enjoy reading this review? Then share it on social media platforms (see buttons at the bottom of this post!) or maybe consider sending a cup of coffee my way?
Twitter: @bookshelfbitch ‧ Tumblr ‧ Instagram ‧ Goodreads ‧ Bloglovin'