With April being the second to the last month of my semester, things were a little crazy for the most part – but also tons of fun! As per usual,
it was a month of academic requirements and deadlines
, which, for the sake of not boring any of you, I won't delve into in detail. Let's just proceed to some of the highlights, yes? Yes!
Nothing made my day quite like returning to my dorm and discovering book mail, which, to my utmost pleasant surprise, happened a lot last April. Unfortunately, I did not have the time to take decent photos of all of them, so for now, let's settle for a handful of half-assed shots, yes? (But I swear to all of you, I will make time to do a bookish photoshoot for all the books I've acquired so far this 2018!)
I received a gorgeous UK paperback of The Astonishing Colour of After by Emily X.R. Pan from the lovely Val @ The Innocent Smiley because I won her giveaway on Twitter. I was overjoyed when she contacted me because this has been one of my most anticipated 2018 releases, and I can't wait to finally read it!
I also received an incredibly beautiful hardcover of The Calculus of Change by Jessie Hilb from the publishers in Houghton Mifflin. The premise of this title is really interesting to me, and I think I'm going to appreciate all the geeky math and calculus references in its story. Speaking of, I ended up having two copies of The Calculus of Change, so I've decided to give one copy, together with a couple of skin care items, away! If you're interested, the giveaway is open internationally and will run until May 18th.
I'm still freaking out about this, but I was fortunate enough to receive other great titles via book mail! Again, I don't have decent photos of all of them, but here's a really brief rundown:
From Vienna @ vienna noreen;'s giveaway, I won paperback copies of Amy & Roger's Epic Detour and Second Chance Summer both by Morgan Matson. I have yet to fully read any of her books, so I am thankful that I now have the opportunity. So many bloggers have hyped up Morgan Matson and her writing that I can't wait to experience the magic myself!
From author Danielle Rogland's Twitter giveaway, I won four epic space titles! As a huge science fiction nerd, I am very, very thankful and happy. The books are as follows: The Long Way to a Small, Angry Planet by Becky Chambers, The Stars are Legion by Kameron Hurley, Dare Mighty Things by Heather Kaczynski, and Ardulum First Don by J.S. Fields.
Last but certainly not least, a paperback copy of Trashy Romance Novel was sent to me by the author herself, Jacqueline E. Smith. I've actually already finished it as my first read in May, and I ended up enjoying the book more than I anticipated. I cannot wait to write my review and to share my thoughts with all of you!
Of course, I also bought a couple of books, too. Both written by Filipino authors and both from #romanceclass!
I've already read and reviewed the recently released Start Here anthology, but after I decided to present this book in a report for my Media and SOGIE (Sexual Orientation, Gender Identity and Expression) class, I just knew that I had to have a physical copy for my own. You can actually check out this thread if you're interested in seeing how my presentation worked out. Spoiler alert: Here's my favorite slide from my report!
Moving on, the second book is actually the complete trilogy of Mina V. Esguerra's Interim Goddess of Love, which I've been eyeing for what feels like forever! The story, from what I've gathered, makes use of Filipino mythology and applies it to a more contemporary setting. I ended up purchasing this book because of Cara @ The Little Miss Bookworm and Kate @ The Backwards Bookshelf, with whom I attended #AprilFeelsDay2018 before the month ended. Talk about being enablers. (By the way, can all of you give me a moment to freak out over the fact that my copy of Interim Goddess of Love was signed by the author herself? Huge, huge thanks to Mina V. Esguerra, who is probably one of the most approachable authors I've ever met! Seriously, I was really trying to keep my fangirl-ing to a minimum.)
Speaking of #AprilFeelsDay2018, I had such an amazing time! With Cara and Kate by my side, I felt a whole lot more comfortable (and a whole lot less anxious!). Plus, all the #romanceclass authors were extremely welcoming and friendly and accommodating! In fact, the registration booth was handled by Ana Tejano, author of Keep the Faith (which is the first ever #romanceclass book I fell head over heels in love with), and the moment she recognized me, Ana gave me the cutest French fries eraser ever 🍟🍟🍟 (refer to above photo). I immediately felt the love. I was also recognized by other authors – none of whom could say "You're That Bookshelf Bitch, right?" with a straight face or pronounce my name correctly on their first try (read: my everyday struggle as a Shealea). Nonetheless, while I was surrounded by a sea of smiling faces, I couldn't help but think to myself, "Wow, I found myself the right community."
During the event, I was also able to exchange snippets of conversations with other Filipino book bloggers such as JM @ Book Freak Revelations, Inah @ The Bibliophile Confessions, and Fay @ Bibliophile Soprano — all of whom were very delightful, and I hope to see them more often in bookish events. (Quick segue: JM was actually pretty surprised to see me because I am, and if I may quote him non-verbatim, "usually busy with studies". I wish I could deny it, but ya girl is doing what she can to finally graduate, tbh.)
Okay, I've rambled too much. Let's just go through some photos from the event, yes? By the way, I don't have many photos of my own so most, if not all, of these photos were grabbed from other book bloggers! Sources will be mentioned (or you can simply click on the photo itself to be redirected to its owner).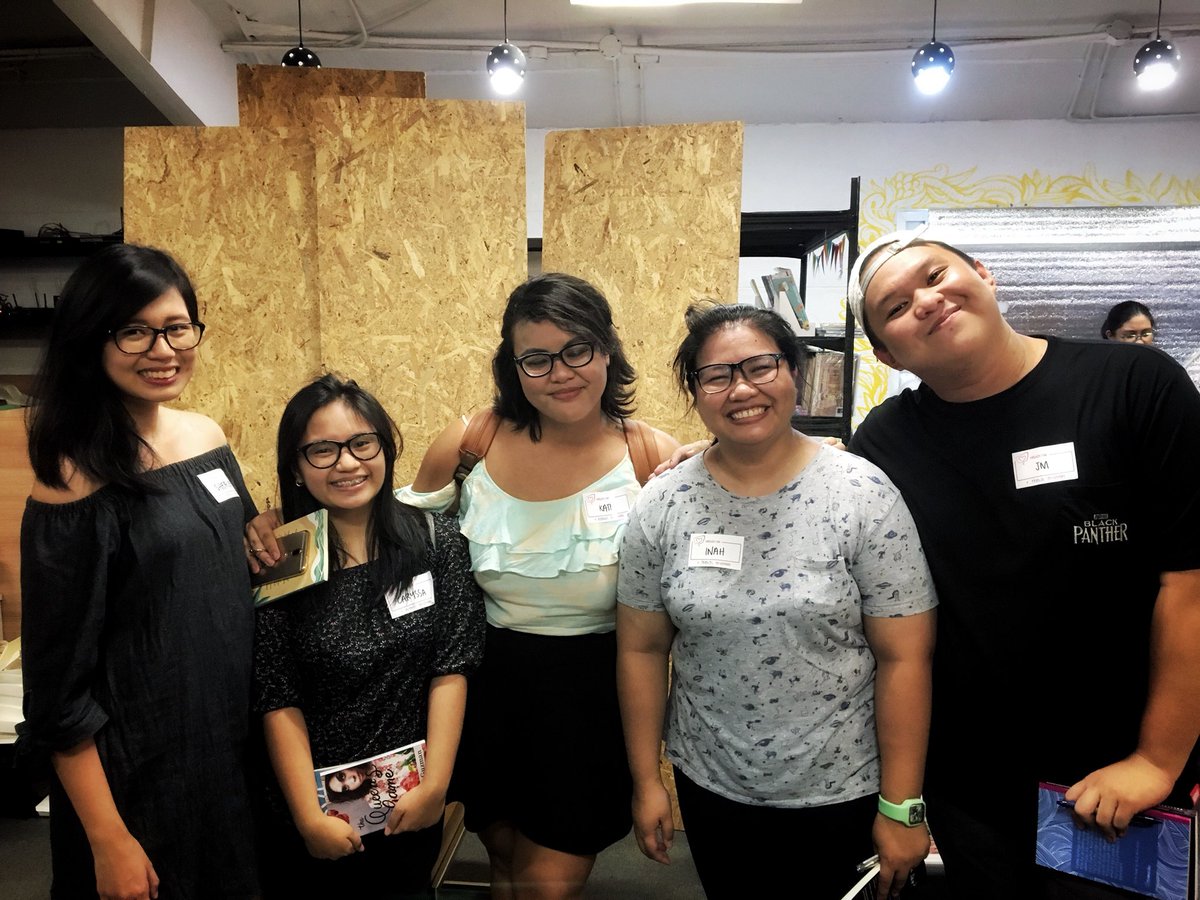 [Photo from Inah @ The Bibliophile Confessions. From left to right: Shealea (me!), Cara, Kate, Inah, JM.]
[Photo from Cara @ The Little Miss Bookworm. From left to right: Cara, Kate, Shealea (me!).]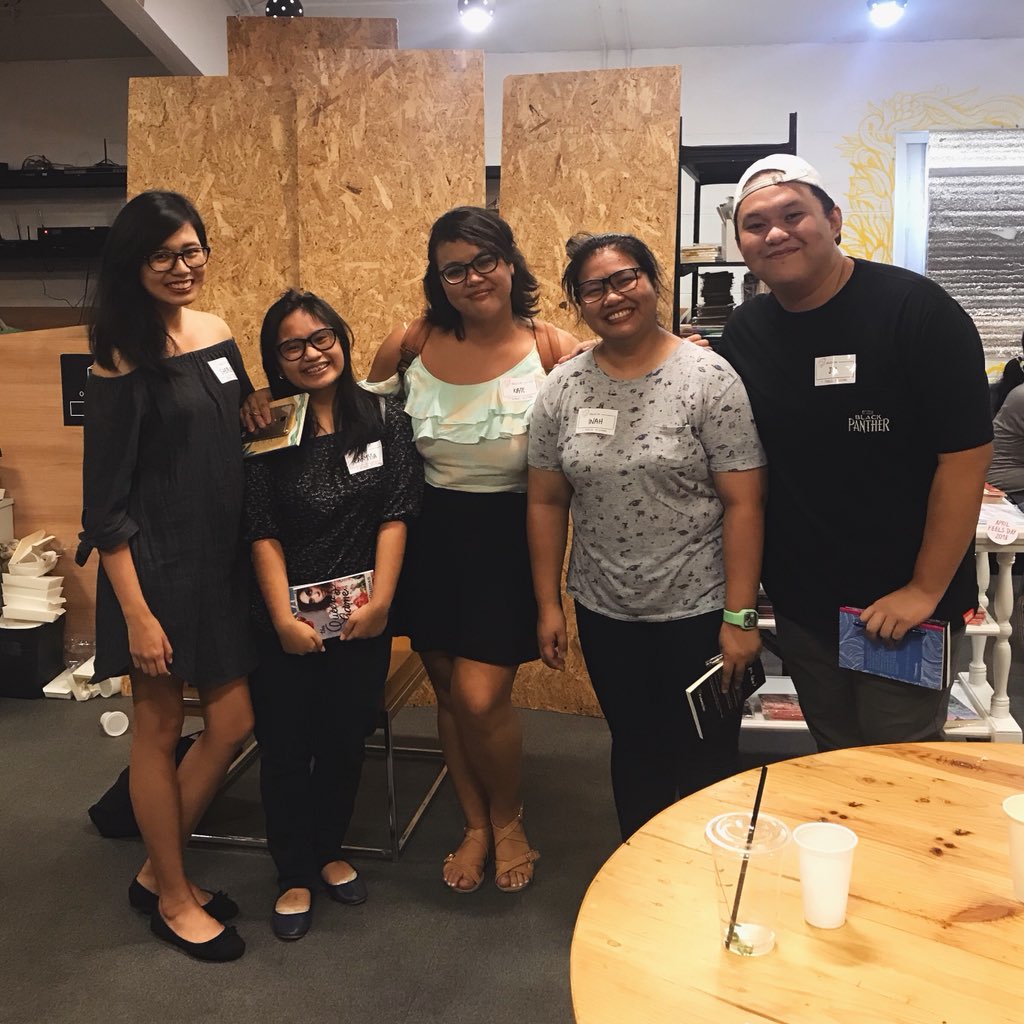 [Photo from JM @ Book Freak Revelations. From left to right: Shealea (me!), Cara, Kate, Inah, JM.]
After #AprilFeelsDay2018, I also had a formal dinner event in my college dorm. #AprilFeelsDay2018 was held on the 28th, and on the 29th, I WATCHED INFINITY WAR(!!!) with my closest college friends. Can I just say: my self-imposed social media ban to avoid any and all Infinity War spoilers was probably the most brilliant idea I've ever had! I came to the cinema totally unprepared and left my seat totally destroyed and overwhelmed and speechless. I STILL HAVE NOT RECOVERED!
I hate spoilers as much as the next person (or arguably a lot more, if I'm being honest), but here are a few (and hopefully vague) post-Infinity War thoughts from ya girl:
READ AT YOUR OWN RISK!
(1) I stan the right Chris!!!
(2) Some character deaths low-key deserved better.
(3) I am convinced that someday, Chris Hemsworth's biceps will bring forth world (or perhaps even universal) peace. Fight me.
(4) Bubbles and rabbits!
(5) Valkyrie???
END OF POST-INFINITY WAR THOUGHTS.
Back to what I was trying to say before I was sidetracked by the sheer awesomeness that is Infinity War: After a really hectic and exhausting April 28th and 29th, I spent the last day of April rushing to meet a mountain of deadlines. Totally worth it, though.
Okay, that's enough about my personal life. Blogging-wise, a lot of interesting things happened as well! For one thing, I was able to pull off organizing two blog tours in April! If that's not a feather under my cap, then I don't know what is.
Also, and perhaps on a much more positive note, I was nominated for the 2018 Book Blogger Awards: Marta @ The Cursed Books nominated me for Social Media Influencer, while Nandini @ Unputdownable Books nominated me for Best Personality/Friendliest Member of the Community. I can't adequately express how flattered, overwhelmed, and humbled I feel. Thank you very, very much, you two!
Finally, in spite of my self-imposed book blogging ban (which was explained in my last monthly synopsis), I still ended up reading four (4) books.
What I've read and reviewed!
Read in March 2018:
Read in April 2018:
Chasing Mindy by Carla de Guzman [4 star review]

What I've read but have yet to review!

Blue Bird by Magda Ayuk [tentative rating: 3 stars]
Society of Wishes by Elise Kova and Lynn Larsh [tentative rating: 2.5 stars]

* Star ratings are subject to changes when I finally get to write my book reviews down.

What I've written!

Under Blog tours:

Under Features:

Under Miscellaneous:

What I've seen around!

Sadly, I lacked the free time to really explore the blogosphere last month. Regardless, here are a number of posts I enjoyed reading!

Book reviews:

Write-ups and discussions:

Plans for May?

May marks the last month of my semester, which means I'm going to spend most of it hustling and bustling in a vain attempt to salvage my mediocre grades. Certainly, I have not been able to perform as well as I would have wanted to this semester, but if I'm being honest, I'm not all that bothered. While I consider myself to be a goal-oriented person (and I am trying to maintain my academic standing), my experiences this semester has really opened my eyes to the importance of simply enjoying whatever life has to offer. And I think my increased appreciation for just about anything and everything is a good thing to have.

Still, because of my academic workload, I will cut back on my blog posts this month. No blog tours as well for the month of May – which is, if I'm being honest, a welcomed change of pace. I have a couple of posts that I've been wanting to write for (what feels like) forever! So I'll probably try to set aside some time for them. I think I might have to cut back on reading as well this month, so that I can really focus on the last stretch of the semester.

And that's it! I think this is the longest monthly synopsis I've written so far, and I hope I didn't bore all of you to death with rambles about my personal life. I got carried away, I guess. But I am interested in reading about your rambles — be it blogging-related or about your life outside the virtual world. Was April a good reading month for you? Have you watched Infinity War?* What are you looking forward to this May, and what book/s are you planning to read next? Have you written your wrap-up post for April? If yes, feel free to leave the link to your monthly wrap-up post in the comment section below! I would love to read about what you've been up to.

* If you've watched Infinity War, know that my Twitter inbox is always open for your post-movie feels, frustrations, and tears. Seriously, let's talk about the film!

Like this post? Then share it on social media platforms (see buttons at the bottom of this post!) or maybe consider sending a cup of coffee my way?
Twitter: @bookshelfbitch ‧ Tumblr ‧ Instagram ‧ Goodreads ‧ Bloglovin'