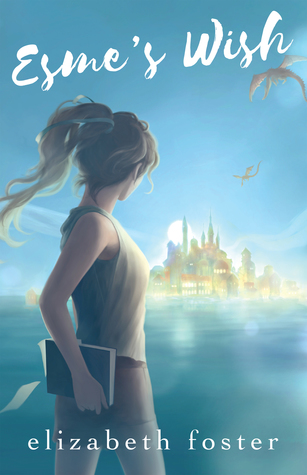 Title: Esme's Wish
Author: Elizabeth Foster
Genre: Young Adult, Fantasy
Copy: Digital
Rating:
* More about the book.
* More about the author.
* More about the blog tour.
* Purchase via Amazon.
Esme's Wish
follows the story of a 15-year-old girl who questions the reason behind the sudden disappearance of Ariane. Although most folks in their town have accepted this loss, Esme refuses to believe that her mother simply got 'lost at sea' and thus embarks on a journey to uncover the truth. Eventually, Esme accidentally stumbles upon the canal city of Esperance – the make-believe fantastical place her mother often talked about.
Here's the thing: I prefer my fantasy stories thrillingly paced and jam-packed with action. I prefer plots that move along rather quickly and stories that involve a lot of action occurring simultaneously. Think Marvel and maybe Game of Thrones infused with tons of energy drinks. Esme's Wish was not much of these things, if I'm being completely honest.
Instead, we're given a cautionary tale that thoroughly explores its magical world, immersing its readers as it progresses. The author sets up this magnificent city littered with dragons and other magical creatures, and instead of being thrown into the chaos, we are given an opportunity to navigate this world in the same way and in the same pace as Esme – with curiosity, with trepidation, and with caution.
This, accompanied by the author's knack for imagery, effectively brings both the city of Esperance and the world of Aeolia to life. Although the descriptions of the sceneries were more lengthy and flowery than concise, I still managed to appreciate how the imagery made it very easy to imagine the city's appearance. As a matter of fact, I really appreciated the author's effort in engaging all five of the human senses because with a place like Esperance, I wanted to be as immersed as possible!
As I mentioned earlier, the pacing of this novel is somewhat slower than my usual preference. Although there were occasions that I ended up skimming over the text (I'm sorry!) because I wanted things to move along more quickly, for the most part, it felt like I was simply visiting Esperance, taking in the sights and breathing in the culture, rather than chasing down hints that could possibly tell me more about Ariane's disappearance. I thought it was a clever approach to the story, really. And I did manage to enjoy the leisurely pace.
Because of the author's efforts to really engage readers, it was not hard for me to connect with Esme's character. Plus, Esme is already likeable enough on her own. Seeing the world through Esme's eyes was very pleasant, if not refreshing. Her portrayal as a 15-year-old girl who's constantly confused and overwhelmed by unfamiliar surroundings was remarkably realistic and wonderfully flawed, and I liked how her character grew and developed by the end of the story. I also liked how, despite her confusion, she remained determined to learn what truly happened to her mother. She was resilient and persistent regardless of how complicated, ugly, or difficult circumstances became!
Speaking of her mother, I was glad that despite Ariane's physical absence throughout most of the book, the story allowed a lot of space to build on Ariane and Esme's mother-daughter relationship, which helped me develop a fondness for Ariane despite not actually meeting her. Additionally, in doing so, I was able to see just how much and why finding Ariane was extremely important to Esme. I could not stop myself from cheering the two of them on!
According to its synopsis, Esme's Wish is "an ideal read for younger teens", and I completely agree. With strong themes on self-discovery, coming-of-age and friendship, this is a book I just know I would have loved reading 5 years ago as a younger teen. This story is inventive and heartwarming. Its mythology and magical background are both fascinating. I look forward to its sequel.
Disclosure: I received a copy of Esme's Wish from the author herself in exchange for an honest review. Many thanks to Elizabeth Foster for the review copy as well as for allowing me to organize this blog tour!
---
By the way, in lieu with the
#EsmePH blog tour
, a printed copy of
Esme's Wish
(+ bookish merch) is up for grabs!
---
Excerpt from the book:
Years and years?

Esme stared at the compendium, a ringing in her ears. It wasn't an aftereffect of the quake; it was something completely unrelated. She closed her eyes and tried to calm the blood roaring in her head.

She'd felt this before—sometimes a trace of it, sometimes more. When she was younger, and she'd watch, alone, while other mothers picked up their children after school. When she had listened to other students complain about their own mothers, wishing they had someone else's—anyone else's. She'd felt a hint of it, too, back when Miranda first told her about the compendium.

It rose up in full force, wedging in her throat like a blocked cream.

Envy. A violent, raw rush of envy.
---
---
Twitter: @bookshelfbitch ‧ Tumblr ‧ Instagram ‧ Goodreads ‧ Bloglovin'