I am very much pleased to announce that today marks the first day of the
blog tour
for Elizabeth Foster's stunning YA fantasy debut novel,
Esme's Wish
, which was published in the latter quarter of 2017. I figured the best way to officially kick off this blog tour is to write a little feature post citing six — yes,
six
— reasons why you need to add
Esme's Wish
to your TBR. Here we go!
[1] An admirably young heroine in search of the truth no matter what.
From the novel's synopsis, we learn that 15-year-old Esme refuses to believe the story everyone is feeding her regarding her mother's abrupt and mysterious disappearance from her life. All throughout the story, Esme's actions are guided by her desire to uncover the truth, regardless of how messy, ugly or complicated the process becomes. That's definitely the kind of heroine anyone can easily and actively root for!
[2] Set in a world that's practically the City of Venice and Atlantis put together.
The city of Esperance is incredible. As I read the book, I kept imagining it to look similar to the lovely canals of the city of Venice, except with much more resplendent water and giant dragons inhabiting the skies. Of course, my personal description doesn't quite give Esperance the justice it deserves.
Thankfully and fortunately, imagery is one of Elizabeth's finest strengths as a writer. She succeeds in not only bringing this fantastically magical world to life, but also in taking her audience's breaths away as she paints vivid pictures of Esperance inside their heads.
[3] Magic, mythology, and secret portals! Be still, my heart.
One of my absolute favorite aspects to this novel is its remarkably imaginative, well-developed mythology. I honestly never read anything quite like it! I adored how traces of Greek mythology were threaded into the story. I am also a huge, huge sucker for magical gifts! And secret portals! I mean, come on, Narnia? Harry Potter? The portal to the ghost world in the Danny Phantom cartoon? Pure awesomeness, obviously – and the same can be expected from Esme's Wish.
[4] Dimensional, heartwarming friendships you cannot help but root for.
Let's be honest. The Young Adult genre is oversaturated with love stories and romances. To the point that I've grown to become pretty sick of them. And I'm sure that every now and then, you get tired of them, too.
In Esme's Wish, aside from heavy themes of familial love, there's a focus on the development of genuine friendship and fierce loyalty among the characters. As the story progresses, we get to see these characters grow together and create strong platonic bonds in such a finite timeframe. It's actually pretty endearing to witness! We definitely need more representations of healthy friendships in YA literature, especially when our friends and social circles comprise a huge chunk of our lives as young adults.
[5] Themes of self-discovery and coming of age
Esme's Wish tackles on the younger spectrum of YA. A few might even argue that the book can fall under the Middle Grade genre, but to me, the story is largely about Esme coming of age, which is right up the YA alley.
In her quest to discover the truth, Esme ends up discovering more and more things about herself as well. She unearths different sides of herself she never knew existed. She learns to admit fault and to hold herself accountable for her actions. Honestly, Esme's character development is one that I immensely enjoyed reading about. She eventually draws strength from unexpected places, develops a tougher shell without compromising her capacity for compassion, and just grows holistically as an individual.
[6] There is going to be a sequel!
Yep, you read that right! All this awesomeness isn't merely contained in one book. There's going to be more of Esme and Esperance and dragons and magic and so much more! In fact, here's what Elizabeth Foster has to say for what's coming next:
"There are three books planned in the series and I am almost halfway through writing the second. The series ages with the protagonist, so Esme turns sixteen in book two. In the first book, Esme is a little stuck in the past due to the loss of her mother and the alienation she has experienced. She's still playing catch up on things she missed out on as a child.

However, in book two, entitled Esme's Gift, Esme faces more of the typical challenges of her age group. She goes to school in Esperance and also explores the wider world of Aeolia on a special quest.

I don't want to give too much away, but expect more of the whimsy of book one, interwoven with some darker coming-of-age themes."
And there you have it! Six reasons why Esme's Wish should definitely make it under your radar – so go ahead, add this book on Goodreads, and get a copy via Amazon. You can also try your luck and enter the giveaway for the blog tour! A printed copy of Esme's Wish, together with some merchandise, is up for grabs. Interested?
---
BLOG TOUR SCHEDULE
18 February (Sunday)
19 February (Monday)
20 February (Tuesday)
21 February (Wednesday)
22 February (Thursday)
23 February (Friday)
24 February (Saturday)
#EsmePH Twitter chat (8:00 AM Philippines / 8:00 PM EST)
Announcement of Twitter chat giveaway winner
---
MORE ABOUT THE BOOK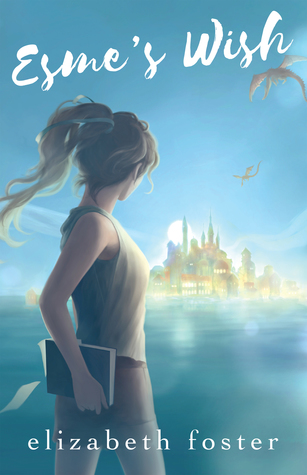 Synopsis:
"A fresh new fantasy of an enchanting world." – Wendy Orr, author of Nim's Island and Dragonfly Song.
When fifteen-year-old Esme Silver objects at her father's wedding, her protest is dismissed as the action of a stubborn, selfish teenager. Everyone else has accepted the loss of Esme's mother, Ariane – so why can't she?
But Esme is suspicious. She is sure that others are covering up the real reason for her mother's disappearance – that 'lost at sea' is code for something more terrible, something she has a right to know.
After Esme is accidentally swept into the enchanted world of Aeolia, the truth begins to unfold. With her newfound friends, Daniel and Lillian, Esme retraces her mother's steps in the glittering canal city of Esperance, untangling the threads of Ariane's double life. But the more Esme discovers about her mother, the more she questions whether she really knew her at all.
This fresh, inventive tale is an ideal read for younger teens.
---
MORE ABOUT THE AUTHOR
Elizabeth Foster read avidly as a child, but only discovered the joys of writing some years ago, when reading to her own kids reminded her of how much she missed getting lost in other worlds. Once she started writing, she never looked back. She's at her happiest when immersed in stories, plotting new conflicts and adventures for her characters. Elizabeth lives in Sydney, where she can be found scribbling in cafés, indulging her love of both words and coffee.
---
Twitter: @bookshelfbitch ‧ Tumblr ‧ Instagram ‧ Goodreads ‧ Bloglovin'