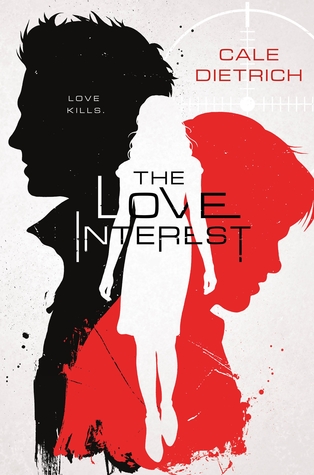 Title: The Love Interest
Author: Cale Dietrich
Genre: Young Adult, Romance, Contemporary
Copy: Digital
Rating:
* More about the blog tour.
* More about the book.
* More about the author.
* Purchase via Amazon or Book Depository.
Synopsis:
There is a secret organization that cultivates teenage spies. The agents are called Love Interests because getting close to people destined for great power means getting valuable secrets.
Caden is a Nice: The boy next door, sculpted to physical perfection. Dylan is a Bad: The brooding, dark-souled guy, and dangerously handsome. The girl they are competing for is important to the organization, and each boy will pursue her. Will she choose a Nice or the Bad?
Both Caden and Dylan are living in the outside world for the first time. They are well-trained and at the top of their games. They have to be – whoever the girl doesn't choose will die.
What the boys don't expect are feelings that are outside of their training. Feelings that could kill them both.
Review:
Okay, before anything else: I received a digital Advance Reader's Copy (e-ARC) of this book as part of my participation in a blog tour hosted by Book Freak Revelations – this, however, neither affects my opinion nor the content of my review in any way.
I'll be straightforward here. Out of everyone who participated in this blog tour, I am clearly the black sheep. But I'll elaborate on this later on.
The Love Interest received a lot of pre-publication hype because of the novelty concept it presented: two guys fighting for one girl but eventually end up falling for each other. I know, I know. At first glance, the novel appears to be—to put it rather crudely—the wet dream of every diverse YA reader. In many ways, it may as well be.
Aside from the inclusion of a male-male pairing, The Love Interest also serves as a satirical take on fictional tropes commonly found in the Young Adult genre, poking fun at stereotypes and at frequently used plot devices. This is actually my favorite element in the story. The witty dialogue that made lighthearted jabs at YA fictional tropes kept me very entertained as I nodded along in agreement that "Yes. This is so true."
"At least I'm not going to give her diabetes. And fair warning, as part of my tortured-soul thing I have to start being mean to you. Apparently, that will make me seem strong and make you seem weak. Because strong nowadays means being a total dick."
One of the most remarkable aspects of this novel is its unique play on, what is perhaps, the most unappealing YA trope of all: love triangles. It's no secret that for years (and up until now), the YA genre has been oversaturated with love triangles – the typical setup being: the story's heroine choosing between two male love interests. There are also special cases that involve more complicated shapes such as the love rectangle and love hexagon. Perhaps the most extreme case I can think of is The Selection. But I digress. The Love Interest completely changes the traditional dynamics of love triangles, which, in turn, expands their landscape and opens new possibilities succeeding authors can explore and toy with.
However, despite these positive things I just mentioned, I did not like the book as much as I hoped I would. This is where my being a black sheep comes into play. While every other tour participant completely adored the book, I found The Love Interest quite underwhelming and, to an extent, mildly disappointing. I had plenty of issues with it, specifically a couple of problematic things that were used as plot devices. I found the character development to be substantially lacking and I felt that the latter part of the story was so haphazardly written I ended up rolling my eyes after reaching the ending.
To top it all off, my main problem with The Love Interest is its unbelievably shaky and underdeveloped world-building. From a contemporary point of view, the story is decent, if not enjoyable. However, since the novel takes on a number of dystopian elements, from a science fiction point of view, it falls flat in most aspects. I could not help but nitpick at the many glaring holes in the world-building, and in the grander scheme of things, the plot.
While I appreciate what the author is trying to achieve and while I commend his efforts in bringing something extremely unfamiliar and wildly extraordinary to the table, the execution just fails to live up to the hype. Even so, I think Caden and Dylan's story is interesting enough to be worth looking into.
---
Excerpt from the book:
His face falls. "Seriously, you fell for it too? It was stupid and boring and I hated it. It was all acting, and I feel so fake. Even when I was reading that boring-ass book like it was book eight of Harry Potter, all I could think about was how I couldn't wait to come here tonight. It's the one time I feel like myself. Do you know what Judy wants me to do?" I shake my head. "She wants me to start being mean to Juliet."

"What?"

"Yep, tomorrow in gym class I need to be aggressive toward her. You know she's taking self-defense as an elective, right? Well, tomorrow I'm supposed to hurt her a little bit."

He's telling me too much. A part of me wants to tell him to shut up, to stop handing me his life. I know I can't do that. He's exposed his soft underbelly, so I have to get in as many hits as I can. It's who I'm supposed to be.

"That's horrible!" I say. "And quite frankly, stupid. Why does Judy think that will make Juliet like you?"

"Apparently, it'll make me seem like a tortured soul who is lashing out, because I can't handle all the epic, sexy pain within me. And apparently that will make Juliet think she can fix me, to help me deal, and that will make her fall for me. I dunno, a lot of it doesn't make sense to me, but wouldn't it take a lot more than a crush to get over the death of my parents?"
---
---
Twitter: @bookshelfbitch ‧ Tumblr ‧ Instagram ‧ Goodreads ‧ Bloglovin'