Two weeks into the second semester of my fourth year, and things have already gotten rather hectic for me. But let's elaborate on that later, shall we?
Quick recap of last semester:
Prior to the start of last semester, my mind already guessed that right then and there – what with it being my fourth year in college and all – time management would become increasingly more difficult for me. A two-month respite in June 2016 allowed me to reevaluate my priorities, redefine both my intermediate and long-term goals, and pinpoint internal struggles that required immediate attention and action on my part. I came to realize that the success I wanted for myself primarily lay in how I managed my time. From there, I decided to make changes in how I operated and to adopt new habits.
By the end of that semester, I was able to achieve most, if not all, the targets I laid out for myself. I was able to join another student organization that interested me, while also remaining as an active member in both my current organizations and delivering my assigned work on time. I allotted more time for myself, and in doing so, I found a new hobby and a revived love and appreciation for poetry. I was successful in maintaining my blog (as evidenced by my first blog anniversary last month). Most of all (and this is perhaps the goal I worked the most conscientiously towards), my grades improved drastically, making it relatively easier on my part to transfer to a different degree program.
You're probably wondering – hell, I'm also pretty skeptical – how did Shealea do it?
Well, fear not, I will get to that part in a few. (I promise.)
As I've mentioned earlier, the past two weeks into this semester – one wherein I've recently shifted to another program, making things more difficult – have kept me very busy. All things considered, I can already tell from the get-go that this semester will be even more daunting than the last.
With everything that's been said, here are four concrete ways that have helped me survive last semester and will (hopefully) continue to keep me alive for the rest of this one.
[1] New study habits and rewritten notes
A photo of my notebook last semester.

A color-coded visual of my class schedule of last semester.
People often assume that I am, quote, hardworking, unquote. Here's a confession. I am one of the laziest people I know. I frequently procrastinate to the point in which I have to pull multiple (and sometimes consecutive) all-nighters just to beat the deadlines by a hair's width – and that's typically how I got things done. My old study habits weren't any better, really. My old strategy involved attempting to retain all the information and important concepts in a span of one to two days, and drinking enough caffeine to keep me awake for an entire week (or at least, to help me cope with getting a mere two to three hours' worth of sleep per night).
Last semester, when it came to long tests and exams, I developed a practice of taking quick, short naps in between studying.* Say for example, I would take a two-hour nap (it turns out that I am incapable of taking 30-minute naps) for every three chapters I finish before proceeding to the next three chapters. It kept me feeling a whole lot more refreshed and less mentally exhausted. Also, I'm proud to say that I no longer start studying for an exam the day or night prior to it(!!!). (Good for you, @/self. You go, girl!) If that isn't growth and maturity, I don't know what is.
* Note: This approach depends on what subject the exam falls under.
Arguably the biggest change I've made in terms of study habits is: rewritten notes. Yes, I regularly rewrote all my notes from lecture classes last semester, and will hopefully continue to do so this semester.
Notes for my Econ 11 class (from last semester).
I used one notebook for all five of my subjects, opting to use a multi-color system rather than dividing the pages into five equal sections. What's a multi-color system? Since I've always liked using two colors in writing notes (black for text and a brighter/lighter color for terms, formulas and key words), I assigned a particular color to every subject. Specifically:
Red – Econ 11
Pink – MBB 1
Orange – Comm 100
Green – Socio 10
Blue – STS
For this semester, my multi-color system is as follows:
Red – Stat 101
Pink – Comm 130
Orange – ES 10
Green – Film 100
Blue – J 101
Purple – POLSC 14
What's great about this is that it allows me to write chronologically while neatly differentiating what subject my notes falls under. Also, this method allows me to maximize the blank pages of the notebook and offers a leeway for adjustments. For example, last semester, my Economics class took up a bulk of my notebook space. Had I divided my notebook into five equal sections, I wouldn't have been able to accommodate the rest of my notes, which would have forced me to buy another one.
Basically, the multi-color system produces notes that are visually, aesthetically pleasing (one of the most important factors, to be honest), neatly organized and have easily identifiable sections. I'm sure I'm not the only one who finds it less motivating – and, at times, significantly unappealing – to use messy, haphazard notes in studying, yes?
Also, habitually rewriting notes forces me to revisit the academic material, thereby making it easier to retain information and increasing the frequency of my study sessions.
[2] Todoist
I accidentally discovered the blessing that is Todoist – seriously, I cannot sufficiently stress how much of an absolute Godsend this has been to me – from Reg's blog post, Let's Talk: Must-Have Blogging Tools. I honestly cannot thank her enough!
Todoist is a nifty little app that manages and organizes tasks and errands. It's kind of like a better structured, customizable to-do list with a beautifully simple design. Its features include projects, labels and filters. You can also classify tasks according to priority. Admittedly, the app's functionality is quite limited as compared to other task management apps, but I actually adore how uncomplicated and straightforward it is to use.
My "projects" are categorized as follows: Academics, Blogging, Errands, Personal and Work. Under Personal, I have sub-categories such as books to read, financial goals, stuff to watch, and writing. For the labels, I have three kinds of deadlines: self-imposed, fixed, and flexible. I also have labels for particular output such as deliverable (for org work), post (for my blog), and review (also for my blog).
Organizing has always helped me feel calmer and more at ease. It definitely puts my mild paranoia in check. And ultimately, there is nothing better than seeing this on my screen:
Bonus: View my 2016 in productivity via Todoist.
[3] Evernote
Evernote quickly became another personal favorite as well. It is a cross-platform (it automatically synchs devices!) app designed for taking notes, jotting down ideas, organizing, sharing ideas, and archiving. I have it installed on both my phone and on my iPad.
To-do lists can also be created via Evernote, but I prefer using Todoist for that. For the most part, I use Evernote in keeping track of my ideas, noting my weekly expenditures, and storing some of my original content — namely poems and quick excerpts. I love the concept of online notebooks, which can be filled up with text notes, audio clips, photos, lists, and reminders. I currently have a total of six notebooks.
Evernote's versatility makes it so ideal for scribbling down anything that inspires me, generating ideas and literary pieces, and documenting pretty much anything. Whenever I'm suddenly struck by an idea for a blog post, I immediately open up the app and start outlining. I do the same with my writing. I've grown accustomed to writing drafts for my poems on my Evernote notebook instead of actual paper. It's pretty convenient as well because doing so minimizes the chances of me losing my works and my ideas. Another plus is that I am allowed to set up a password, making sure no one can read my rather embarrassing scribbles but me!
[4] Notebook for book reviews
(Photo borrowed from Papemelroti's online store)
I bought this small and ridiculously adorable notebook from Papemelroti, a quaint store that I just love. Most of the products that they offer are crafts, and all of their notebooks are made with recycled paper. I generally like the vibe of their stuff in general, if that makes sense. But I digress.
For the longest time, I relied on the highlight and comment features on my readers (iBooks and Kindle) in remembering details and in taking notes that will appear or, at the very least, will be mentioned in my book reviews. However, the larger my review backlog grew, the more difficult it became to distinguish one storyline from another, especially when it came to books that fell under the same major genres and/or utilized the same general themes. It made reviewing books a lot less fun than it used to be. Sometimes, it even started to feel like a chore. Thankfully, by keeping a notebook and jotting down handwritten notes as I read, constructing my reviews became easier, even though I read the books many months prior to writing my criticism.
…
And that's technically it. By that, I mean these are the four changes I adopted last year that, I think, have greatly helped me not only in being more organized but also in keeping my sanity in check. These are definitely tools I intend to keep using for the rest of the year, and maybe even beyond then!
But wait, there's more!
Okay, I have no idea where that interjection came from, but nevertheless, there is more. I recently tried my hand at a new habit, which is keeping a weekly planner. Allow me to elaborate.
[5] Weekly planner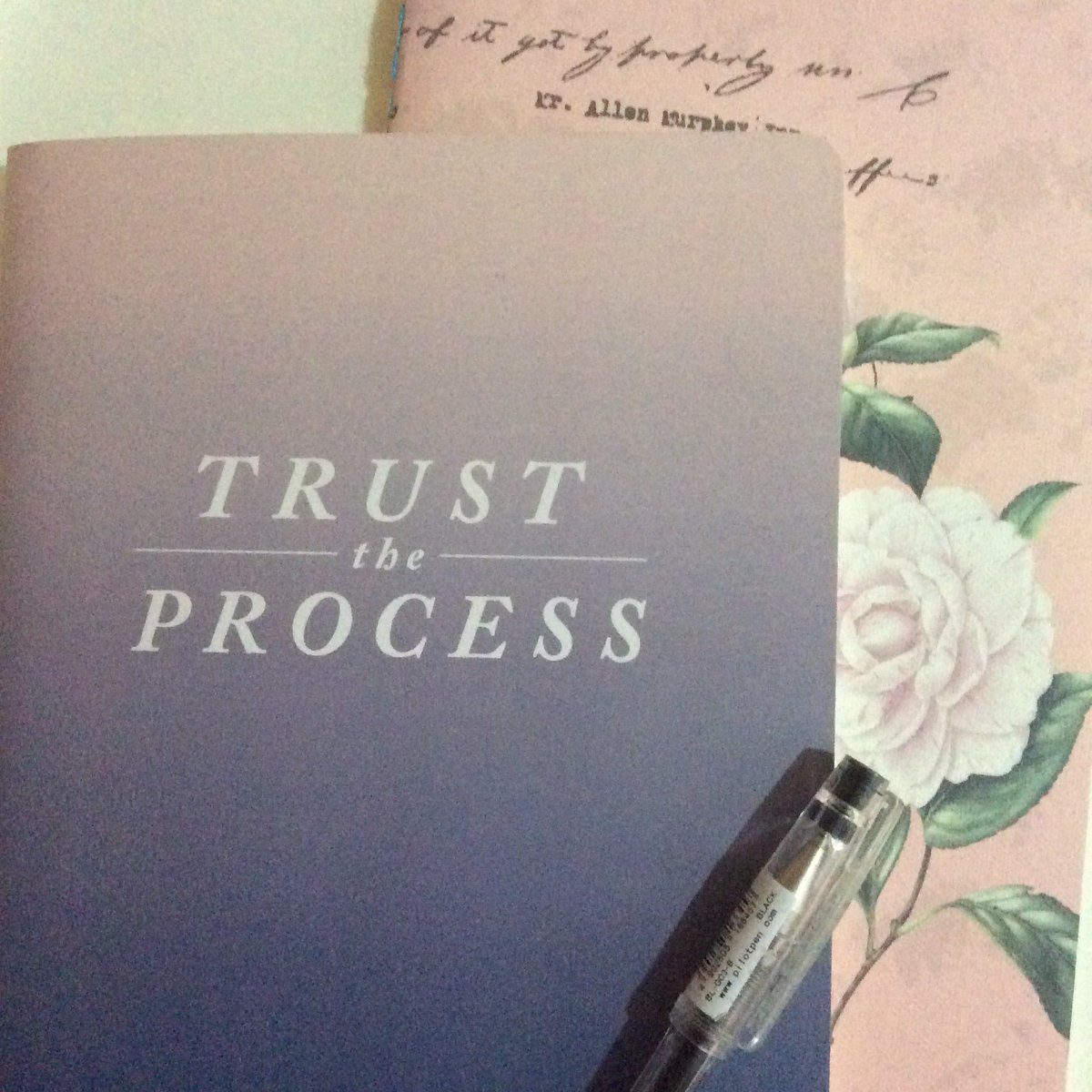 Let's take a brief moment to drool over the very pretty cover, yes?
Anyway.
The story behind the planner is simple: it was an impulse buy. See, truth be told, I never had the urge to keep any kind of planner – a fact that astounds most of my peers, given how obsessed I am with organization and tidiness. As I've mentioned earlier, I know exactly how lazy I can be, and I was absolutely certain that maintaining a planner will quickly feel like a mundane chore until I give up on it altogether.
However, as my friend and I hopped from one 'arts and crafts' store to another, I stumbled upon this planner and, for some unfathomable reason, could not resist the desire to just scribble in it.
On one hand, keeping a planner when I already have a task management app I use religiously seemed very redundant and, to some extent, counterproductive. I mean, there is such a thing as being too organized, right? It was only hours after purchasing the planner that I was able to finally see a golden opportunity: using the planner to better schedule my blog posts.
Yep, yep. I cannot tell you how many times I ended up accidentally preparing two or three posts to be published within the same day. Sometimes, it even escapes my mind that I haven't posted anything in a significant period of time. As much as I love Todoist, its interface is not quite suited for displaying an overview of deadlines that span for more than a week (i.e. Todoist is limited to showing the tasks you've set for the next 7 days).
Thankfully, since the planner is broken down by weeks instead of months like a regular calendar, it's much easier to visualize deadlines and to adjust the publication of posts accordingly. A weekly planner's utility surpasses merely keeping track of scheduled posts. It can also be used to highlight examination dates, take note of meetings and appointments that are months away, record weekly goals and resolutions, and efficiently distributing my workload.
I even used the extra pages in order to come up with a formal legend. Plus, I now have manageable monthly reading and rereading lists!
The legend is relatively straightforward. Different kinds of bullets are used to differentiate events, tasks and notes. There's also a list of special marks that help in specifying the type of deadline I'm dealing with. And as per usual, my weekly planner also makes use of a color-coding system. (It's only a mild obsession, I swear.)
Just for fun, I added these colored plastic tabs in order to rate how productive my day has been! My productivity levels are as follows:
Dark purple – "Extremely productive. You go, Shealea! Slay, you absolute queen."
Lighter purple – "Relatively productive. At least you did a few things."
Blue – "Not productive at all. Better work on that!"
So far, my planner looks like this:
I'm pretty happy with how things have turned out so far. I'm still at pace with my personal resolutions – specifically, keeping a daily journal and writing one poem a week (read: Project 52 Poems).
But enough about me. What about you? How's your year going so far? I hope this post somehow motivates you to try being a little bit more organized!
Twitter: @bookshelfbitch ‧ Tumblr ‧ Instagram ‧ Goodreads ‧ Bloglovin'