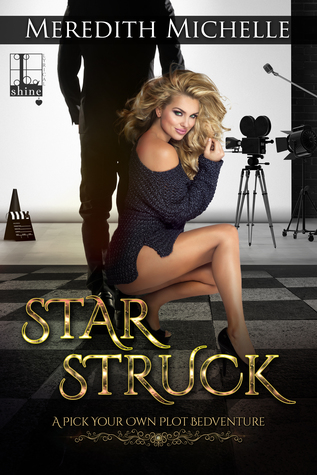 Title: Star Struck
Author: Meredith Michelle
Genre: Adult, Romance, Contemporary
Copy: Digital
Rating:
* More about the book.
* More about the author.
* Purchase via Amazon.
Synopsis:
ARE YOU READY TO CHOOSE YOUR OWN HOLLYWOOD ENDING? You are Anna Chambliss, a beautiful A-list actress engaged to a gorgeous Hollywood star. Life is beyond perfect—until you wake one morning to find tabloid headlines proclaiming that your fiancé is cheating on you. How do you react? Your love life, your career, and your future happiness all depend on what you choose to do—and who you do it with.
Will your engagement crumble in public scandal?
Do you seek out a sexy new leading man? Enjoy a night of mind-blowing bliss with a near stranger?
Or do you find your soul mate away from the spotlight's glare?
Every decision you make has consequences, some steamy, some dangerous. Follow your destiny from movie sets to glittering premieres to glamorous vacation spots—and always remember: life in the fast lane can include all kinds of juicy detours. The choice is yours…
Review:
All right, I received a digital copy of this book as part of my participation in a blog tour – this, however, neither affects my opinion nor the content of my review in any way. Thank you to the digital marketing manager for inviting me to this opportunity!
My comments on Star Struck will be told in a rather straightforward manner, much like how the novel itself was written. The book weaves a commonplace story that has circulated the entirety of the literary world a thousand times over – a journey into the glamorous and simultaneously mildly unglamorous lifestyle of being a Hollywood personality. Actors with overly inflated egos, scandals blown out of proportion, bodies chiseled to perfection a totally mundane blessing, bucketfuls of unnecessary melodrama; in essence, your typical celebrity life cliché. As far as storylines go, Star Struck has little to nothing to offer in terms of plot originality.
Clearly, the most charming aspect of this book is the manner in which the story was told. The novel makes use of the second person point of view and narrates the story in a 'pick your own plot adventure' way. The format is quite similar to childhood reading adventure books, which I found to be relatively refreshing. Having, to an extent, some power over the course of events kept me engaged enough to keep reading, despite the novel's blatant predictability. I think it was fascinating to encounter a novel that can be read multiple times with each reading experience ending in a different way.
However, incorporating this 'read on your own terms' style certainly came with a number of restrictions. For one thing, due to the novel's format, the opportunities for character growth were extremely rare and limited. Likewise, it did not give any of the characters, particularly the leading heroine, much allowance for depth and fuller characterization. None of the cast was fleshed out well. Plot buildup was virtually nonexistent. Sometimes, the pacing felt really rushed. Most elements in the book were presented in a rather superficial and very shallow way. It was significantly off-putting on my part as a reader.
Ultimately, the book is a letdown, especially if you're looking for reading material that's more substantial. In all fairness, I do think that the concept of choosing your own plot is a difficult feat to pull off (considering all the restrictions I've mentioned earlier). Still, I'm pretty sure that it is possible to work through it in spite of the numerous limitations. A more complex and less generic storyline would have already been a significant improvement, in my opinion. But anyway, although Star Struck isn't a particularly remarkable novel, it might be suitable for those looking for a very lighthearted read to pass the time.
---
---
Twitter: @bookshelfbitch ‧ Tumblr ‧ Instagram ‧ Goodreads ‧ Bloglovin'