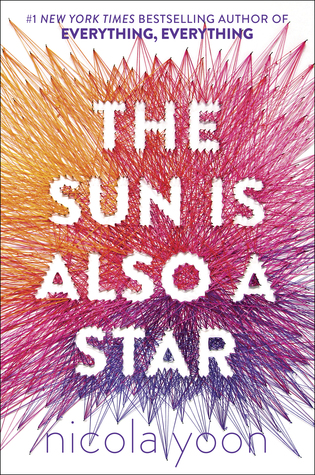 Title: The Sun Is Also a Star
Author: Nicola Yoon
Genre: Young Adult, Romance, Contemporary
Release: November 1, 2016 (Delacorte Press)
Copy: Paperback
Rating:
* More about the blog tour.
* More about the book.
* More about the author.
* Pre-order via Amazon or The Book Depository.
Before anything else,
I received a physical Advance Reader's Copy (ARC) of this book as part of my participation in this blog tour hosted by Book Freak Revelations – this, however, neither affects my opinion nor the content of my review in any way.
Thank you very much, JM and the wonderful people from Penguin Random House for the opportunity!
At first glance, Natasha and Daniel appear to hail from opposite ends of an incredibly vast spectrum. Natasha is a cynical, skeptical African-American immigrant with a profound understanding of science and all things rational whereas Daniel is a Korean-American sweetheart whose passion lies in writing poetry. Somehow, a series of unforeseen circumstances and mishaps brings the two of them together on the same day Natasha, along with her family, is supposed to be deported back to Jamaica. From there, we are thrown into a wonderfully riveting whirlwind that is perfectly summarized by the novel's synopsis:
Every moment in our lives has brought us to this single moment. A million futures lie before us. Which one will come true?
Personally, I think the novel had a pretty weak beginning. I went through the first few opening chapters at a rather sluggish pace because I found the beginning to be fairly boring. The narrative was pretty simplistic, unmemorable and uneventful. Additionally, I was slightly thrown off by the writing style and multiple shifts in points of view.
The narrative alternated between Natasha's perspective and Daniel's and occasionally shifted into the viewpoint of a minor character or into third person. It was a format I've never encountered before, so it left me bewildered for a short while. However, it easily grew on me and I eventually appreciated the cleverness and intricacy behind this style. In fact, the more comfortable I became with the writing style and narration, the more incredibly refreshing my reading experience became. I think telling the story in this manner allowed me to learn and to better empathize with both Natasha and Daniel while simultaneously being given the opportunity to take a step back and to witness the bigger picture unfurl and unfold magically.
We descend back into the tunnel. I know for sure that I will always compare every city skyline to New York's. Just as I will always compare every boy to Daniel.
Speaking of Natasha and Daniel, I ended up adoring both characters equally. I could very much relate to Natasha on a rather personal level because I, too, am skeptical about a number of things she mentioned in the novel. The way she took scientific concepts and constructed them into metaphors, analyzing them using a slightly philosophical lens, was refreshing to read about. As a heroine, she was admirably independent and headstrong while simultaneously shy and vulnerable. Also, she was rational and insightful but occasionally naïve at the same time. Overall, I liked her.
On the other hand, Daniel was the gentler and more optimistic of the pair. His hopelessly romantic soul occasionally bordered on ridiculous but was mainly quite endearing. I enjoyed his character growth the most. Initially, he was painfully awkward to read about, but as the story progressed, Daniel became the epitome of sweet, thoughtful and hopeful — which, I think, was exactly what Natasha needed to break out of her shell. I also loved the fact that he was a poet and that his concern for Natasha never wavered.
During their initial meeting, things did not smoothly, magically fall into place: Daniel was no smooth-operating sweet talker and Natasha was not very cooperative either. It definitely deviated from the usual approach most contemporary romance novels utilize where the guy says all the right things and the girl just falls into his lap almost instantaneously (or something to that extent). I actually loved how they started off as two awkward individuals because not only was that much more realistic but it also made their transition from strangers to two young, equally lost people who are attracted to each other all the more compelling to read about. Certainly, their relationship is a beautifully heartwarming and wonderfully realistic rendition of modern romantic attraction.
Despite all the positive things I've said, I did have a few issues regarding the dynamics and development of their relationship. My biggest and primary concern is how alarmingly quick the romance progressed. It seemed far too instantaneous, in my opinion. While I completely understand that the pacing of their relationship was fast because of the novel's very narrow timeframe, it still isn't something I can easily overlook and ignore.
One of the novel's strongest, brightest highlights is how the characters' ethnicity and cultural roots played a significant role in the story. Nicola was amazingly fearless in delving into the heritage of her characters and the issues that come along with them. As an author of a culturally diverse novel, she showed exceptionally remarkable skills and unparalleled finesse in demonstrating how culture shapes and impacts an individual's sense of identity – their interaction with people with the same heritage, their interaction with people outside the scope of their ethnicity, the way they view themselves, the prejudiced perceptions and misconceptions they are forced to deal with, the struggle in defining who they really are. Important and rampant issues such as racism and sexism were tactfully tackled as well.
"You listened to Bob Marley, and a bartender got you some pot, and someone told you what irie means, and you think you know something. You saw a tiki bar and a beach and your hotel room. That is not a country. That is a resort."
Truth be told, it is my first time to read one of Nicola Yoon's books and The Sun Is Also a Star was far from disappointing. What I adored most about The Sun Is Also a Star was how masterfully put together the storyline was, which ensured that everything was somehow mysteriously interconnected. I think the story can be likened to a puzzle. Each chapter is a new, additional puzzle piece you can admire separately but can't quite totally understand and fully appreciate. It's only until you get to the very end, when you have all the pieces in your hands that you can finally complete the puzzle, creating an overwhelmingly vivid, larger-than-life picture that will, I swear, leave you absolutely stunned and momentarily speechless.
---
Excerpt from the book:
This is where I would've taken Daniel. I would've told him to write poetry about space rocks and impact craters. The sheer number of actions and reactions it's taken to form our solar system, our galaxy, our universe, is astonishing. The number of things that had to go exactly right is overwhelming.

Compared to that, what is falling in love? A series of small coincidences that we say means everything because we want to believe that our tiny lives matter on a galactic scale. But falling in love doesn't even begin to compare to the formation of the universe.

It's not even close.
---
---
Giveaway:
Twitter: @bookshelfbitch ‧ Instagram ‧ Goodreads ‧ Bloglovin'