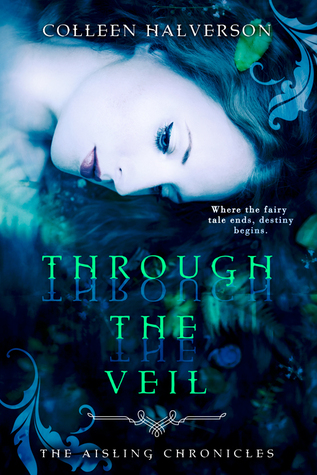 Title: Through the Veil
Author: Colleen Halverson
Genre: New Adult, Romance, Fantasy
Copy: Digital
Rating:
* More about the book.
* More about the author.
* Purchase via Amazon or The Book Depository.
Before anything else,
I received a digital Advance Reading Copy (ARC) of this book (via NetGalley) in exchange for an honest review
. Many thanks to Colleen Halverson and Entangled Publishing!
Colleen Halverson's debut novel, Through the Veil was recently published last February. In this book, we are introduced to Elizabeth Tanner. Broke and drowning in student loans, all Elizabeth wants is to finish her thesis on The Book of Arranmore, an ancient manuscript that holds the secrets of the Fae world, and to succeed in earning a scholarship from the Trinity Foundation. However, it is not that simple, especially when Trinity reveals Elizabeth is actually half-Fae. All of a sudden, this college student with a penchant for Irish literature and culture finds herself at the center of a plot to save the magical races of Ireland from a brutal civil war.
One of my biggest struggles in life is that whenever I pick up a book that deals with faery folklore, I have an instinctive, unavoidable need to compare that book to Julie Kagawa's The Iron Fey series. It really cannot be helped as The Iron Fey has been my all-time favorite since high school—which is kind of a big deal because I've eventually lost interest in a number of my earlier favorites (e.g. The Fault in Our Stars by John Green, The Unbecoming of Mara Dyer by Michelle Hodkin). But I am going completely off-tangent. I have yet to encounter another fae book that I've enjoyed at least—allow me to emphasize, at least—half as much as The Iron Fey. Until I happened to stumble upon this fantastically written debut, that is.
When I first read Through the Veil last March, I finished the entire thing in less than six hours and I was absolutely mesmerized by it! Of course, since then, a few details and scenes have escaped me, which is why I decided to give the book another full read prior to writing this review. Unfortunately, while I still greatly enjoyed Elizabeth's adventures, I did not quite adore the story as much as I did during my first read. I guess during my initial read, I was so swept away by the amazing fantasy elements that I failed to notice that a few aspects were lacking – which I will definitely tackle on in the latter part of my review. However, make no mistake; Through the Veil is still an excellent novel.
The gorgeous book cover: This is the first time I've ever dedicated a section of my review to the book's cover. But can you really blame me? The cover is absolutely stunning! It has a somewhat ethereal, calming quality to it which really grabs a person's attention. Additionally, the cover is composed of multiple hues of blue and green – two of my favorite colors! Most certainly, Through the Veil has one of the prettiest book covers I've seen this year. (Note to self: Get your hands on an actual physical copy, Shealea!)
Elizabeth Tanner: For the most part, I adored Elizabeth. As the story's heroine, her innate resilience and compassion for the wellbeing of others were commendable! Right from the start, I found myself easily rooting for her!
I did, however, struggle with her brand of sassiness. While I generally liked the bite in her comebacks and the sarcasm she employed every now and then, there were also instances wherein it all felt too much. By that I mean, it was like Elizabeth was trying far too hard to come across as a "strong female lead". Her adamant personality sometimes gave way to a frustrating kind of stubbornness. And at times, even bordering on whininess. Her confidence in herself and in her capabilities sometimes translated itself as misplaced arrogance, which consequently led to recklessness. Nonetheless, I still liked her overall. In fact, I don't necessarily see these things as faults in the book. I believe these faults make Elizabeth's character all the more interesting, and I look forward to see how she progresses as a heroine in the latter installments of the series.
Afterward, Finn chuckled. "Impressive bit of politicking there, Elizabeth."

I shrugged. "I've read Game of Thrones. I know how this shit works."
I particularly liked the scenes which showcased Elizabeth's vulnerability and the ones wherein her principles were severely tested. It was during those moments where her character really shined. Oh and let's not forget how passionate she was about Irish mythology! Even when she was stressing over her thesis, it was still easy to tell that she was genuinely interested and truly invested in what she was learning.
Caffeinate, read, write, repeat.
Finn O'Connell: Finn is the Commander of Trinity's elite warriors and Elizabeth's love interest. I have a lot of mixed feelings about him that I cannot fully categorize into neat labels. If I were to describe his behavior throughout the story, I think the adjective "inconsistent" would best describe Finn. He kind of fell flat but occasionally made up for it. I honestly have yet to figure him out as a character, so I don't think I'm capable of forming an established opinion of him. I'm hoping that I'll be able to better understand Finn once the sequel is released.
Romance: As you may or may not have noticed, I had my fair share of struggles with both Elizabeth and Finn. Personally, my struggles with them stemmed primarily from my uneasiness with their relationship. I guess I have plenty of reservations regarding the romance between the two of them. The romance began as lust-driven; however, I could not understand where the instant, intense attraction came from. After that, the sparks between Elizabeth and Finn were outright volatile while the chemistry remained practically nonexistent. I just did not get it.
Thankfully, in the second half of the book, their relationship greatly improved as there was more room for moments that allowed their feelings to grow and to develop nicely. At this point, the affection started to come across as more genuine and heartwarming. Unfortunately, due to the questionable development of their attraction in the initial half of Through the Veil, I still did not fall in love with this pairing.
Graphic content: I was surprised—pleasantly so—by Halverson's vivid and striking imagery that, at times, left me with a total loss for words. The story featured graphic scenes of violence and abuse that succeeded in chilling my bones. In fact, the author's brutality and admirable courage to write such dark, compelling scenes made the plot all the more gripping. I would not necessarily call the scenes explicit, but they certainly left a haunting expression.
Aside from the detailed telling of abuse, there were also a handful of descriptive sex scenes—that I completely forgot about prior to my second read.
World-building and Irish mythology: This was hands down my favorite element in the story! Honestly, I know very little about Irish mythology, but after reading this book, I will definitely look a lot more into it! But I digress. I absolutely fell in love with the mythical world-building! Halverson demonstrated extensive knowledge in both Irish mythology and culture. Also, I cannot properly articulate how overwhelmingly brilliant and spectacularly wonderful the Fae lore was.
Since I cannot, for the life and love of me, fully express how much I adore the fantasy in Through the Veil, here's a brief excerpt!
I cleared my throat, taking the silence as a cue to continue. "Lorcan goes into great detail about all the different Faerie tribes of the underworld, also known as Tír na nÓg, the land of youth. That's where the Faeries went into exile after the Celtic bard Amergin tricked them into giving up Ireland." I leaned in, trying to make eye contact. "It's a great story. Do you know it? Amergin calls the wind and overcomes the Faeries.

Am gáeth I mmuir. Ar domni. Am tond trethan I tír.

I am wind on sea. I am ocean wave."

Finn's eyes never looked up from the manuscript. "Thank you for the enlightening history, Miss Tanner. There's nothing like being lectured on ancient Irish mythology by an American."
Writing style: Considering the intricate plot line, well-played suspense, attention to detail and underlying political themes, it is an undoubted truth that Through the Veil was fantastically written. Although Elizabeth was far from a perfect character, I greatly enjoyed her narrative and how it was written. Her voice was sharp and compelling with a slight poetic essence.
Additionally, I appreciated how fast-paced the story was. It kept me on my toes and completely enraptured by everything that was going on. Whenever I think of Halverson's writing style, I immediately think of two words: captivating and addictive—because that's exactly what she consistently delivered in Through the Veil.
But the energy wasn't within me, he said. It was me. It flowed through every particle, every atom, every inch of my being, allowing me to connect with other streams of energy. For whatever reason, I could reach them, the bare threads that wove the universe together in a constant, fluctuating pattern of order and disorder, chaos and connection. It was in my blood.
The latter half: I've come to realize that in the earlier portion of my review, I pointed out several issues I had with the book. With that said, why am I giving this one a rating of four stars? Well, to be honest, the second half of Through the Veil blew me away. This does not necessarily mean that the first half was terrible or anything. On the contrary, it was really, really good. It's just that I was unable to completely enjoy it. What primarily hindered me from fully appreciating the first half of the book was my personal reservations with the romantic development, which, as I mentioned earlier, immensely improved later on.
Nonetheless, I had a terrific time reading (and rereading) this and I am anxious to find out what happens next! Despite its flaws, I would consider Through the Veil as a solid, worthwhile urban fantasy read. Through the Veil is an unparalleled fusion of Irish and Fae cultures artfully interlaced with fascinating politics and equally great fantasy elements that I cannot get enough of. Kudos to Colleen Halverson for a great debut novel!
---
Excerpt from the book:
Una shook her head and took my hands in hers. They were so small and delicate, like a child's. "The only person you need to forgive is yourself."

I shook my head. "I don't…"

"You are a good person, and something terrible happened to you. Forgive yourself for the rage, the bitterness. It's all right to feel that, but if you push it down, sweep it away, it will only grow. Look at it. Confront it. Love it, even. It's the only way you will survive this. At least, that's the only way the good in you will survive."
---
---
Twitter: @bookshelfbitch ‧ Instagram ‧ Goodreads ‧ Bloglovin'