The books for Batch 6 are as follows:
Always Kiss Me Goodnight by Megan Gaudino
Ugly by Margaret McHeyzer
False Idols by Alexis Grove
---

Title: Always Kiss Me Goodnight
Author: Megan Gaudino
Genre: Young Adult, Paranormal, Romance
Copy: Digital
Rating:
* More about the book.
* More about the author.
* Purchase via Amazon or The Book Depository.
Official synopsis:
Sophia Destino is supposed to die.
All seventeen-year-old Sophia wants is to coast through her junior year. But with her parents obsessed with her Olympic-swimming-hopeful brother, a psychic best friend with a penchant for reading tarot cards, and prophetic dreams that predict her death—that won't be easy. As her nightmares begin to come true, Sophia finds herself dodging death and longing for the time when getting over her ex-boyfriend was her biggest problem. Until she meets Leo Knight. The mysterious stranger seems determined to keep her alive—and steal her heart. But Leo has a secret that is about to change everything and Sophia is about to learn that sometimes…your number is up.
Review:
I received a digital ARC of this book (via NetGalley) in exchange for an honest review. Thank you, Megan Gaudino, Evernight Teen, and Xpresso Book Tours!
Always Kiss Me Goodnight left me undecided with a lot of mixed feelings. On one hand, I can't possibly deny that I enjoyed reading the story Gaudino has weaved. Despite the book's title, Always Kiss Me Goodnight offers more than an unlikely love story; its pages hold a fascinating, fantastical, supernatural realm that readers will definitely eat up. On the other hand, however, the book did not quite keep me as engaged as I hoped it would.
Sophia Destino was all right, I guess; but for the most part, she lacked appeal as a female lead character. While I did sympathize with her every now and then, I felt that she needed more personality to further strengthen her character. Still, I haven't given up on her and I can only hope that she will be given the opportunity to really grow as a strong, dimensional heroine in the next book. As for her love interest, Leo Knight, I had a lot of mixed feelings about him as well. I mean, technically, Leo was a stalker. He literally followed Sophia around, without her knowledge, to keep tabs on her. I get that it was all part of his duty and all, but it's kind of hard to imagine myself falling for someone who knows too many intimate moments in my life without needing me to open up about them. Aside from that, Leo was very likable and I would really love to read more about him.
"After a while, I got used to having you in my head." He turned around to fully face me. I smiled back. It was contagious. "You're exactly my kind of entertainment."
The relationship between Sophia and Leo was great, in my opinion. I really think that the two balance each other out. And I definitely prefer Leo over Aiden any day, any time of the week. However, the element of forbidden romance was not played out well. I would have appreciated a lot more struggle. It seemed to me that Sophia and Leo almost easily overcame all the obstacles that threatened their relationship. Aside from that, I was also slightly disheartened by the presence of overused YA literary tropes such as the lack of familial presence, guy saving the girl's life, and other whatnot. Seriously, guys, what is up with these trends? Enough is enough.
On a more positive note, I really loved how Gaudino expertly put a twist in the idea of Fate. In her book, Fate appears to be an actual entity, and there actually exists a divine order that carries out Fate's will. I found this concept to be incredibly imaginative and refreshing. I don't think I've encountered anything quite like it in any of the books I've ever read. Plus, Gaudino's execution was totally on point!
"Let me get this right." I pulled back a bit. "Tera's part of the lowest order?" He nodded. "So the lowest job you can have is saving humans' lives?"

"We don't exactly look at it that way. I know I don't. We look at it more as moving closer to Fate and further away from earthly ties. The people who get saved by guardians in the first order aren't supposed to pass away. It's not part of Fate's plan."
Overall, despite the book's shortcomings and flaws, I had a good time reading the story. I am very much interested in reading the next book.
What makes this different:
In Always Kiss Me Goodnight, Gaudino plays around the traditional ideas of angels and grim reapers, consequently introducing a supernatural twist that is unparalleled to anything I've ever read: Guardians of Fate whose primary role is to protect the ways of Fate and to ensure the execution of Fate's plan. I found this highly intriguing as it challenges our current perception of the ethereal and the divine. This is definitely something worth looking into!
---
Excerpt from the book:
"So when you started seeing me you came and found me?"

He smiled. "I remember the first time I saw you in real life. You were at the outdoor ice rink in the park, wearing that long white coat." He closed his eyes like he was remembering it. "You were easy to find."

"What happened then? Why didn't you talk to me?"

"I watched you all day, waiting for… it to happen. I never saw it in my mind so I wasn't sure how or when—I really had to watch. I followed you everywhere you went, but then when it didn't happen by the end of the day I left you. I thought I made a mistake—my first mistake ever. I thought I was losing it."

His eyes seemed tight with worry or maybe frustration.

"What were you waiting for? What was supposed to happen?"

"You were supposed to die, Sophia." His eyes finally met mine as they flashed with pain. "I only see people when they're about to die."
---
---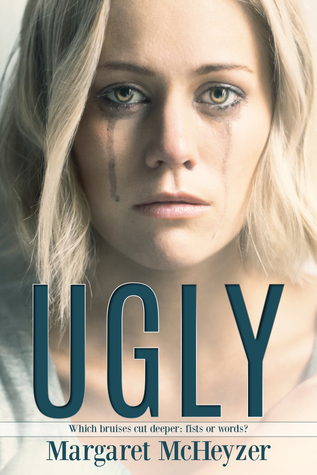 Title: Ugly
Author: Margaret McHeyzer
Genre: Young Adult, Contemporary
Copy: Digital
Rating:
* More about the book.
* More about the author.
* Purchase via Amazon or The Book Depository.
Official synopsis:
If I were dead, I wouldn't be able to see.
If I were dead, I wouldn't be able to feel.
If I were dead, he'd never raise his hand to me again.
If I were dead, his words wouldn't cut as deep as they do.
If I were dead, I'd be beautiful and I wouldn't be so…ugly.
I'm not dead…but I wish I was.
*This is a dark YA/NA stand-alone, full-length novel. Contains violence and some explicit language.
Review:
I received a digital ARC of this book (via NetGalley) in exchange for an honest review. Thank you, Margaret McHeyzer!
I keep mulling over the day's events. They are like a cyclonic storm whirling all around me, as I stand in the eye of it and watch life drag me further under the constant, heartless doom that haunts me. Is my destiny only to exist and never live? What kind of legacy can a girl who

never was

, leave behind? Never was pretty, never was smart, never was anything?

I never was meant to live. This isn't a question. This I know absolutely.

What's the point of breathing?
This novel deals with plenty of sensitive topics and darker themes such as physical, verbal and sexual abuse. It revolves around the life of Lily Anderson and the domestic abuse she's endured from childhood to her adult years. Truth be told, I was slightly underwhelmed as I was expecting harsher scenes and more violent content. Still, I believe this book succeeded in shedding some light on the severity of the situation domestic abuse victims and survivors faced, are currently facing and will face for the rest of their lives.
He stops at my door, and he's dressed in jeans and a t-shirt. He just looks at me, and I watch his features change. For a split second, I think he wants to tell me something. And hopefully, that something is him begging for me to forgive him. Because I would, in a single heartbeat. He's the only Dad I've got, and somewhere deep inside the anger, deep inside the hard man he is -– he loves me. I'm sure of it.
Personally, I struggled with the main character, Lily Anderson, finding it very difficult to continue empathizing with her plight. This is mainly because Lily's narration has an almost childlike quality to it. This was fine during the first portion of the story as it dealt with Lily's childhood trauma and suffering from the hands of her very own father. However, this same childlike quality was carried even throughout her years as an adult, making it a problem. Lily was constantly teetering on the fine line between being passive and being ridiculously gullible. It became frustrating every now and then, especially when she believed in everything she was told while hardly blinking an eye or taking a moment to think about it.
Now, I cannot exactly assert that the book's depiction of this kind of abuse and its eventual psychological effects on its victims is wrong or inaccurate as I don't have any relevant experiences with the subject matter at hand. However, I will say that I don't wholly, 100% agree with it or more specifically, how it was delivered. I just feel that this could have been approached differently. Additionally, the abrupt change in her character – the moment Lily finally realized that she just had to leave her manipulative, abusive husband – seemed quite farfetched to me.
The latter part of the story, in my opinion, made up for the incredibly dreary, sluggishly paced middle. Once Lily found her strength and her personality, she was unstoppable. I especially adored the sudden introduction of Max's character into Lily's life! Seriously, Max is my favorite character. Not only was he an absolute sweetheart and unbelievably adorable but he was also battling his own demons and moving on from his past, making him a dynamic and dimensional addition to the story.
What makes this different:
Certainly, the best of the book was in its latter chapters. With that said, I believe that the biggest highlight of Ugly is the realistic, heartwarming, budding romance between Lily and Max – a genuine relationship between two emotionally damaged, beautifully flawed people. It's been quite some time since I last read an unlikely romance that greatly moved me to the point of teary eyes. Seriously, I am so tempted to quote all of their interactions together. It's just that great!
---
Excerpt from the book:
"I love you, Max." I look up to find him staring at me. "It's taken me a while to allow myself to feel it, and realize I'm worthy to be loved. But I know I love you with everything I am. I've never known love before. I thought I did at one time, but I now understand that was a coping tool. You've been by my side and asked nothing of me, yet given me so much of yourself.

"Snowflake," he whispers as he draws his eyebrows together.

"It's taken me a long time. But now I know I am worthy of love, and I'm in love with you." Max is quiet for a scary, long moment.

"That's all I ever wanted to hear," he says.

"That I love you?"

He shakes his head. "No, snowflake, to hear you say you're worthy."
---
---

Title: False Idols
Author: Alexis Grove
Genre: Young Adult, Science Fiction
Copy: Digital
Rating:
* More about the book.
* More about the author.
* Purchase via Amazon or The Book Depository.
Official synopsis:
In the year 2047 neural implants have given a small slice of the population superhuman abilities. Are these Aeons brilliant humanitarians dedicated to saving civilization, or venal psychopaths bent on its destruction?
When Sarah Fenton is recruited out of her orphanage into a mysterious government program, this question becomes her mission. Answering it incorrectly could spell the end of the human race.
Her only path to the truth lies in beguiling an Aeon named Nick Lal, the reclusive scion of one of the planet's wealthiest families. Even as she realizes she's falling in love with him, she begins to fear that he is not as innocent as he appears.
As famine and religious strife threaten to push the nation into a three-way civil war, Sarah's time runs short. Will she be wily enough to choose correctly and save the world?
Review:
I received a digital ARC of this book (via NetGalley) in exchange for an honest review. Thank you, Alexis Grove!
I honestly don't know how to begin this review. Personally, this book was too much for just one sitting. I had to read False Idols in between reading other novels. This was because the story was very heavy in the sense that there was constantly a lot going on. Each chapter continuously shifted from one set of characters to another group of people.
Furthermore, with the story revolving around technological advances eons beyond what we currently have, the world-building was extremely intricate and demanded plenty of details and specifics. As such, information dumping happened every now and then, which effectively cut through and interrupted the plot's flow. Honestly, I am a huge, huge fan of novels that are of this genre – stories that greatly involve science, technology, and engineering. The detail-oriented narration doesn't typically bother me. However, there was so much technicality in False Idols that not even I could keep up. In essence, reading this novel was an incredibly overwhelming experience.
Still, I'd definitely recommend this. There is no doubt in my mind that Grove's plot and storyline were consistent and solid all throughout. The civilization Grove brought to life was nothing short of impressive and innovative. The depth in the story and in the characters was uncanny. Additionally, it shows the ongoing power struggle between the State and the Church. It perfectly captures the selfishness and greed in people, not to mention the exploitation of power and the ever-present temptation of self-interests. Really, it is obvious that this was well thought of. I guess the only problem lies in the writing style in which the story was delivered. Other than that, I think False Idols is brilliant!
What makes this different:
False Idols presents a very intriguing concept that is actually not altogether implausible: the rise in supremacy of beings so scientifically and technologically advanced they expect to be treated as gods. Basically, the book's content provokes and challenges current ideals and belief systems. Haunting and brilliant, really.
---
Excerpt from the book:
Laura flipped her long red hair back over her smooth bare shoulder and gave him a sidelong glance: "A man buying his third sports car in a year or a woman buying her fifth diamond necklace in a season is not buying to use, but buying to make a point."

Nick was confused that he could find no one among the Aeons who shared his interest in behaving selflessly. He wanted to understand why. He wanted to know if he was simply being naïve, mindlessly believing in platitudes that everyone else was wise enough to dismiss. "What point?"

"That they can buy it."

"That's the point? That's pointless. Shouldn't we put the money to better use? We have all the abilities necessary to do something worthwhile. Yet we spend our time pursuing nothing but our whim of the moment." Maybe he was naïve, but it seemed that the other Aeons were no wiser than he was. He turned away from Laura in disgust.

Laura placed her ivory arms around his shoulders and pulled him back flirtatiously. "In the near future, we Aeons will save the world from cataclysm. And then you'll understand just how worthwhile you are. Our importance means that our own wellbeing is the most important thing in the world. The momentary whim of an Aeon is more important than the direst need of a human."
---
---
Twitter: @bookshelfbitch ‧ Instagram ‧ Goodreads ‧ Bloglovin'