The books for Batch 4 are as follows:
I'll See You in Paris by Michelle Gable
The Billionaire's Deal by Crystal Kaswell
Resist by Missy Johnson
---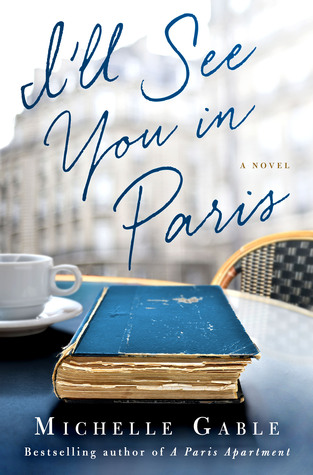 Title: I'll See You in Paris
Author: Michelle Gable
Genre: Historical Fiction
Copy: Digital
Rating:
* More about the book.
* More about the author.
* Purchase via Amazon or The Book Depository.
Official synopsis:
After losing her fiancé in the Vietnam War, nineteen-year-old Laurel Haley takes a job in England, hoping the distance will mend her shattered heart. Laurel expects the pain might lessen but does not foresee the beguiling man she meets or that they'll go to Paris, where the city's magic will take over and alter everything Laurel believes about love.
Thirty years later, Laurel's daughter Annie is newly engaged and an old question resurfaces: who is Annie's father and what happened to him? Laurel has always been vague about the details and Annie's told herself it doesn't matter. But with her impending marriage, Annie has to know everything. Why won't Laurel tell her the truth?
The key to unlocking Laurel's secrets starts with a mysterious book about an infamous woman known as the Duchess of Marlborough. Annie's quest to understand the Duchess, and therefore her own history, takes her from a charming hamlet in the English countryside, to a decaying estate kept behind barbed wire, and ultimately to Paris where answers will be found at last.
Review:
I received a digital copy of this book (via NetGalley) in exchange for an honest review. Thank you, Thomas Dunne Books and Michelle Gable!
I have to say that this turned out to be better than I expected. It fascinated me how the book was actually inspired by someone – a duchess who was somewhat crazy beyond belief, if you ask me. I never actually heard about Gladys Deacon before reading this novel, and I'm glad that I was able to learn a couple of new things because of it.
Despite being a fictional work, the author, to the best extent of my knowledge, kept true to historical facts when depicting the duchess. I found it really remarkable how a person could stir up legitimate facts and imagination to concoct one hell of a story. And it was a great story.
However, although the book is great in terms of technicality, it took me a frustrating amount of time to finish this book. It's not that the writing style was poor or anything, but I genuinely had no interest in what was going on. I needed to take long breaks in between before continuing; otherwise, I would've had driven myself insane from all the boredom and indifference I was feeling. I don't mean to offend or to insult anyone, most especially the author as it is apparent that she is fairly talented and more than competent enough to write a good story. I guess, by the end of the day, everything really boils down to personal preference, and this just wasn't my cup of tea. However, despite this, I decided to rate this book according to writing technicality rather than my interest in the story or lack thereof.
---
Excerpt from the book:
"Why are you here?" Mrs. Spencer asked again. "Why? You should be attending university instead of living with an ancient dame in the countryside. Education is everything. It smooths a life."

"I did attend college. In California. I was a literature major, for a while."

"Yes, and then?"

"Then… I left."

Pru was in no mood to recount her backstory, or to deflect the uncomfortable combination of pity and disgust she was bound to receive. Her fiancé was dead, which was a tragedy, but surely he'd obliterated more lives than one. It wasn't even a fair trade.

"So your leaving was about a fellow," Mrs. Spencer said with a cluck. "A little advice, Miss Valentine. Never let a man dictate your life."
---
---

Title: The Billionaire's Deal
Author: Crystal Kaswell
Genre: New Adult, Romance
Copy: Digital
Rating:
* More about the book.
* More about the author.
* Purchase via Amazon.
Official synopsis:
Kat Wilder is totally screwed. At only twenty-one, she's resigned to one seriously bleak future. Waiting tables barely supports her only family, her sister, and she's got no luck finding a better job. With no money or time for school, she has no chance at a better life.
Then she meets Blake. The billionaire tech CEO is a lifeline. An arrogant, controlling, impossible to read lifeline. He wants something from Kat and he'll do whatever it takes to get it.
He offers Kat a deal – a few months of her life for a few hundred thousand dollars. All she has to do is play his girlfriend and convince everyone that she's madly in love with him.
It's Blake's way, Blake's terms, Blake utterly in control.
She tells herself it's only business. But the part between them that matters – the two of them alone, her giving in to everything he wants – that part is strictly personal.
Review:
I received a digital copy of this book (via NetGalley) in exchange for an honest review. Thank you, Crystal Kaswell!
Let's begin with the sex scenes, shall we? (Mainly because I don't know much about them, and I want to get this over with.) Well, I wouldn't say that they were badly written. By that I mean the scenes did not come across as trashy and/or of poor taste. More importantly, they weren't distracting and they didn't overshadow the actual plot of the book. I was actually a bit surprised by this, because I assumed that there would be plenty more scenarios of physical intimacy in the book (as it is technically an erotica).
In terms of character and plot development, I wasn't really impressed. The book's premise is easily cliché and has been incorporated in so many published novels and online fanfiction. In my opinion, there's nothing wrong with adopting clichés provided that the author adds his or her own twist to the trope. However, The Billionaire's Deal failed to introduce any refreshing perspective to the table. Moreover, what really kept me from developing a greater interest in this novel is the narration and actual delivery of the story as all the elements were presented in a shallow manner. I found the characters in particular to be very one-dimensional.
Speaking of characters, I didn't particularly like Katrina as she came across as whiny every now and then. I mean, I get it. She wanted to protect herself by establishing a distance from Blake and constantly reminding herself that it wouldn't be a good idea. However, the number of times she went all "He doesn't genuinely care about me." or "He won't ever love me." became increasingly repetitive and harder to swallow down. Seriously, get a grip.
Still, while there was nothing about the book that blew me away, there wasn't anything specifically terrible about it or the manner in which it was written. The Billionaire's Deal is one of those reads that could have been better, could have been worse.
---
Excerpt from the book:
His eyes stay fixed on mine. There's something on the tip of his tongue, I can tell, but he doesn't say anything.

I dive under the surface and do a somersault. There is something warm and comfortable about the water. It's everywhere, all around me. Maybe I can explain it to Blake this way. This is what love feels like. You're swallowed whole, but you know you're safe. You know it's going to be okay.

Not that I'm familiar with the concept.

Not that I'm falling in love with someone.

Not anything like that.
---
---

Title: Resist
Author: Missy Johnson
Genre: Adult, Romance, Erotica
Copy: Digital
Rating:
* More about the book.
* More about the author.
* Purchase via Amazon.
Official synopsis:
Recent college grad Charlotte Lucas thinks she has found her breakout story. It all begins when she answers a provocative want ad poster by a secretive mogul who happens to be a prime suspect in his girlfriend's disappearance. Young and inexperienced, Char has never been pushed to the limit – until their games take her to the very edge. Char has gone in looking for the truth, but now she's in way too deep with a master who plays her body like it belongs to him.
Jaxon Murphy knows a lot more about Char than he lets on. Although the media has made him out to be a monster, he's not about to come clean about his tormented past – at least not before he turns this good girl bad and sends her out to do his dirty work. After all, Jax didn't make it to the top without breaking some rules. But as their play grows passionate and achingly real, Jax can't resist taking a shot at something that's bigger and more powerful than revenge: love.
Review:
I received a digital copy of this book (via NetGalley) in exchange for an honest review. Thank you, Random House Publishing Group – Loveswept and Missy Johnson.
Truth be told, there really isn't much to say. This book promised various levels of kinky and fucked up – and that's exactly what I received as I was given a glimpse into the life of Jaxon Murphy. As advertised in the book's blurb, Jaxon is very tormented, very fucked up and very much a spiteful asshat. I really couldn't understand his character. The same holds true for Charlotte Lucas.
Regarding the sex scenes, I cringed multiple times. Not because they were terribly written, but because they were downright disturbing to me. I won't disclose details in this review so as to prevent leaking out spoilers. All I can say is that I didn't enjoy reading them, and I just couldn't muster the will to care.
This book left me with conflicting feelings. It took me a while to decide whether I liked the story or not as I didn't have the faintest clue of what I was looking for in the first place. Now, I'm not giving Resist a low rating due to all the sexual abuse, BDSM and other equally sensitive and dark content. Because I knew what I was getting into when I requested for this title. Rather, I'm giving this book one star solely because it didn't make sense. Specifically, the "plot" (notice the use of quotation marks) was driven by a nonsensical force. A lot of elements didn't add up or neatly tie together. The mystery regarding Jaxon's girlfriend's disappearance was both poorly planned and executed. The romance, chemistry and emotional connection between Jaxon and Char greatly lacked depth. Char's "motivation" to unearth the truth and to write hard-hitting news about Jaxon's life wasn't convincing at all. Really, the entire storyline seems to be a half-assed idea meant to be used as an excuse to write kinky sex scenes.
---
Excerpt from the book:
"Do you know what this is, Charlotte?" I ask her. She whimpers as I trail the tip of the weapon down the center of her back. I hear an audible gasp when I move the gun around her waist. "Do you trust me?"

"Yes," she replies. Her lack of hesitation almost throws me off. I'm holding a gun against her naked body. Surely there should be some level of hesitation. "I know you won't hurt me, Jaxon."

"How sure are you…" I murmur. Her legs tense as I move the tip of the gun up her thigh, resting it at her entrance. "…that I'm not capable of hurting you? Sure enough to let me fuck you with this gun?"
---
---
Twitter: @bookshelfbitch ‧ Instagram ‧ Goodreads ‧ Bloglovin'