The books for Batch 2 are as follows:
Schooled by Piper Lawson
Scarred by Erica Hayes
The V Girl by Mya Robarts
Rikki by Abigail Strom
---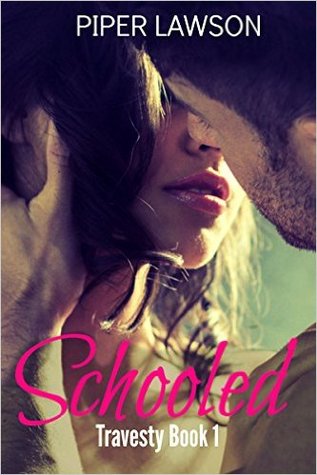 Title: Schooled
Author: Piper Lawson
Genre: New Adult, Romance, Contemporary
Copy: Digital
Rating:
* More about the book.
* More about the author.
* Purchase via Amazon.
Official synopsis:
Twenty-one-year-old Alexis Caine is so close to her dream she can taste it. And it tastes like validation and Häagen-Dazs. In a few months the quick-talking redhead will graduate with a shiny new business degree and launch a fashion label with her best friend Ava. All the planning, dedication, and saying 'no' to everything – and everyone – distracting will pay off.
Then Dylan Cameron, Ava's tall, dark and broody younger brother, returns from the East Coast to start sophomore year at Lex's San Diego college. Lex has hardly seen him in years and given his reputation for partying and girls, that's just fine with her. But Dylan's all grown up. And a night of unplanned confessions for both of them threatens to tear Lex's carefully constructed world off its axis…
Because one sassy control freak + one prodigal son = chemistry that refuses to be ignored.
Review:
I received a digital copy of this book (via NetGalley) in exchange for an honest review. Thank you, Piper Lawson!
Schooled is the first book in the Travesty series. Also, it is Piper Lawson's debut novel – which is kind of crazy, because she's proven herself to be quite the promising author in the highly competitive New Adult, Romance genre. Although I genuinely did not set high expectations for this book as I'm pretty sure I still haven't completely moved on from Rachel Hollis's Smart Girl, I found myself highly enjoying it!
Favorite character: First thing's first, Dylan Cameron is easily my favorite character in the book! And I'm not just saying this because like me, Dylan is pursuing a degree in engineering (segue: we need more charismatic, attractive engineers on bookshelves!). Despite his brooding, bad boy persona, he is actually a sweetheart who values the well-being of the people he loves over his own. It was both sweet and mildly off-putting, in my opinion. There were times when I felt he was continuously being placed on a pedestal he didn't entirely deserve. I mean, there were instances when an unappealing trait of his was revealed only to be disproved later on in the story—kind of like, "Just kidding, you guys, Dylan is still the paradigm of perfection." It became bothersome at one point. However, I didn't really mind it as much because Dylan is quick to redeem himself. Seriously, his character is extreme book boyfriend material: sexy, intelligent, gentlemanly, sarcastic and hilarious beyond belief.
Dylan put his hands on my knees and inclined his head toward me. His dark eyes were earnest and self-mocking. "I will deny it if this ever leaves the room, but my cumulative sexual experience totals about the length of an episode of Breaking Bad."
What I liked: The novel's heroine, Alexis, is a breath of fresh air from all the stereotypical damsels in distress that grace many a bookshelf to date. She's extremely ambitious, business-minded and independent, and she isn't afraid to go after what she wants. I really liked the dynamics of her friendship with Dylan's sister, Ava, and I was pretty much in love with how Dylan and Alexis' relationship was portrayed – the perfect combination of realistic and adorable.
What I really, really loved the most about the book is the author's writing style. Time and time again, Lawson effortlessly demonstrated her quick wit and story-telling prowess by producing a greatly entertaining, whirlwind of a romance.
What I didn't like: I struggled with the latter part of the book, especially with the ending. Towards the end, the plot's flow began to appear abrupt and hastily written. A lot of events were unfolding, and I think we (as readers) weren't given sufficient time to really absorb and appreciate what was going on. The ending, in my opinion, could have been infinitely better.
---
Excerpt from the book:
"Classes are probably even better than at Penn. I've wanted to be an engineer since junior year, but it's like I can actually see it now."

"Why?" I was intrigued by everything he said but latched onto the last part. Thought it was clear that Dylan was one of the smartest guys I knew, I wouldn't have pegged him for having been on a career trajectory that early. Plus, I wanted to keep him talking. I loved hearing him, what he was thinking, without having to guess at it.

"I want to build things that matter. Things that connect people, and support people. To create something that lasts."
---
---

Title: Scarred
Author: Erica Hayes
Genre: Romance, Fantasy
Copy: Digital
Rating:
* More about the book.
* More about the author.
* Purchase via Amazon or The Book Depository.
Official synopsis:
Superpowers don't make you a hero.
Verity Fortune's crime-fighting days are over. In exile, defeated by her smug supervillain nemesis, her shady past exposed—even her own superpowered family condemn her as a traitor. Whatever it takes, Verity's determined to prove she can still be a force for good.
Now, Sapphire City faces a new threat. A delinquent duo with extraordinary powers and a terrifying talent for destruction. Outmatched and on the run, her telekinetic powers faltering, Verity can't defeat this menace alone—but who can she trust, when the only person who believes in her is her arch-enemy?
Review:
I received a digital copy of this book (via NetGalley) in exchange for an honest review. Thank you, Erica Hayes and HarperCollins!
Before I proceed with the actual review, I would just like to clarify that I did not read the first installment of this series, Scorched.
I am a massive sucker for superheroes, really -– I embarrassingly cry out of sheer happiness during Marvel and X-Men movies, and I am a huge fan of televisions series such as Arrow, The Flash and Agents of S.H.I.E.L.D. So why didn't I enjoy this book?
I think it's mainly due to the fact that it not only failed to meet my expectations but it was also a far cry from what I thought it was about. When I first read the book blurb, I was immediately reminded of the beloved Disney movie, The Incredibles. I was looking forward to intense fight scenes, badass crime-fighting and heap loads of action and adventure. Now, I can't really comment on the world-building as that may have been established in the first book. I really don't know. However, I can say that in Scarred, there was little to no actual crime-fighting. In fact, the book nearly bored me to tears. I started skimming when I made it to 29% of the story.
Instead of kicking butt and busting criminal behinds, we are given info dumps, unnecessary scenes, fucked up relationship dynamics among family members and between lovers, underwhelming villains, a messy, senseless plot and an incredibly whiny, hilariously horny super heroine. Not to mention plenty of trauma, psychological babbles and mental issues. Don't get me wrong; I have nothing against implementing darker themes in stories. However, Verity Fortune was nowhere near Batman's level. She was immature, easily irritable, recklessly impulsive—-and oh, get this, ridiculously obsessed with her arch-enemy who happens to be her past abusive lover. Also, I hated how much of a brat she was, and how possessive she was over her best friend Glimmer even though she constantly admits to herself that she hasn't moved on from her ex-boyfriend.
The rest of the characters were equally unremarkable. And yes, this includes Verity's love interests. What displeased me the most, however, was the writing style itself. The injected attempts at humor were just depressing, and the manner in which the story was written greatly lacked sophistication. Really, I was not a fan of the alternative phrases for profanity and childish name-calling used quite frequently in the story.
Basically, I am thoroughly disappointed in this book. I won't be picking up the other books of this series any time soon. Would I recommend this? Probably not.
---
Excerpt from the book:
"Shut your trap for once, and

listen

. Real life isn't a TV bitch drama, okay? Guys aren't prizes you can play for. And real people? They don't have these little contests where they lie and cheat and screw each other over for kicks." Not strictly true in the augmented world, I guess, but my point stood. "So back the fuck off from him, or I'll make you."

"Whatever." She fixed a sneer on her face, but her chin trembled.

She was afraid of me. I liked that.

And I grinned, so she'd know. "Think before you mess with me, girlfriend," I murmured, silk over thorns. "I went bonkers for a while, remember? Madder than a cut snake. Utterly off my rocker. Maybe I still am. If I hear you've been bothering him again… well, who knows what I might do?"
---
---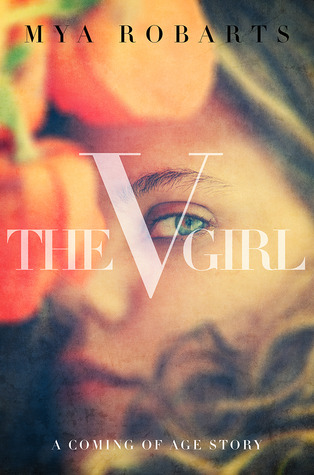 Title: The V Girl
Author: Mya Robarts
Genre: Young Adult, Romance, Science Fiction
Copy: Digital
Rating:
* More about the book.
* More about the author.
* Purchase via Amazon or The Book Depository.
Official synopsis:
In post-apocalyptic North America, rape and sexual slavery are legal. Lila Velez, desperately wants to lose her virginity before the troops visit her town and can take it away by force. She makes plans to seduce her only friend, Rey, the most attractive man in her town. Lila does not love him but he is the only man who has shown her true affection, an affection she is willing to take as a substitute of love.
Lila's coping mechanism to her mother's rape and kidnapping is her secret. A secret that will bring her closer to Aleksey, a foreign, broody man. Lila does not trust him because his links to the troops and his rough, yet irresistible appearance. Aleksey offers Lila an alternative to her plans, a possibility that terrifies her… and tempts her in spite of herself.
All the while Lila will have to find a way to live in the constant company of death, slavery, starvation, sexual abuse and the danger of losing the people she loves the most.
Review:
I received a digital copy of this book (via NetGalley) in exchange for an honest review. Thank you, Mya Robarts and Xpresso Book Tours!
I knew what I was signing up for when I read the book's synopsis. By that I mean: loads of sexual references, dark themes (i.e. rape, harassment, suicide), mature situations and other adult content. And I was right. The book did deal with them. However, I was hoping to see actual substance – which was located at no point within the story.
Honestly, I didn't have a problem with reading about those topics. There is nothing wrong with expressing one's sexuality, regardless of gender. I genuinely admire women who are brave enough to handle their sexuality in stride. My problem was with how the book dealt with sexuality, rape, violence and all these other sensitive topics. I am all about burning the misogyny to the ground. However, nothing of the sort happened. I wasn't expecting another Katniss Everdeen or June Iparis or any drastic, violent rebellion against the political leaders; but it would have been nice if Lila, the story's heroine, thought of things other than losing her virginity and indulging her voyeurism and other sexual fantasies.
I thought her desire to not get raped by the military personnel would catapult her into fighting for the humanity and equality her community was bereft of. That wasn't the case at all! Lila thought of no one other than herself. While she did earn a few sympathy points for being devoted to her family, it wasn't enough. The little vigilante group she's a member of was nothing but a half-assed detail thrown in the story to deceive readers into thinking that she actually served a purpose. Seriously, all she cared about was getting deflowered. At many points in the book, it didn't really matter to her whom she fucked first as long as it wasn't a soldier and as long as she consented. Rather than developing into a strong, independent woman, she instead falls putty into the muscled arms of the General.
Speaking of, General Faust was a sort of decent love interest, but I hated how overly dependent Lila was on him. It sickened me how often he had to intervene just to save Lila's idiotic self. Also, I didn't like the fact that he was genetically engineered to become impossibly strong and insanely gorgeous. So, like, what—-Lila isn't okay with having sex with a soldier but it's okay for her to lust after the general because he's inconceivably hot?
The copy I received had errors and grammatical mistakes too numerous to ignore. Sometimes the passages were repeated twice. Also, the lack of character development and the senseless plot annoyed me. The book had a few moments to redeem itself, but mainly, reading this novel was torture. The only thing that made this book slightly bearable to read was Lila's sister, Azalea.
Azalea looks a lot like me and as her green eyes scan my face, I squirm. My sister has developed acute observation skills. She knows all about my plans, and blocks me as I approach our shared room, brandishing a carrot. "Why don't you put this inside you and get it over with?"
To put it crudely, what could have been an opportunity to incite women empowerment was instead an excuse to write crappy erotica between a sexually enthusiastic voyeur and a genetically engineered hulk of a man.
---
Excerpt from the book:
"Most girls prefer flowers over trees." I brush my fingers on the petals. "These orange flowers blossom quickly. They speak of passion, of beauty." I take a withering flower that had dropped to the ground and feel it between my fingers. "But flowers don't last. They wither easily, and have limited growth. A tree might not speak of passion but sturdiness, yet it grows higher and lasts longer. Some of these trees have been here before I was born and they'll be here once I'm gone."

My head falls back as I look at the highest tree. "Real love ought to be more like a tree and less like a flower." I sigh noisily. "That's the kind of love my parents had. It wasn't as consuming as it was everlasting. And you see that tree over there?" I point towards a cluster of trees across from us. "Now it's only showing green leaves, but during spring it is covered in flowers because as reliable as trees are, they can also speak of beauty and passion."
---
---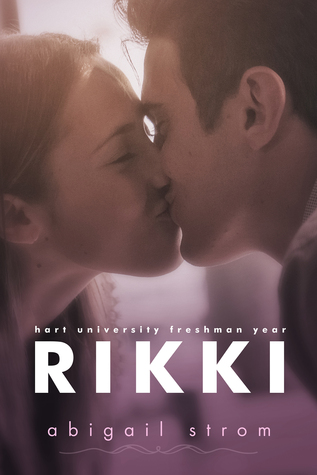 Title: Rikki
Author: Abigail Strom
Genre: New Adult, Romance, Contemporary
Copy: Digital
Rating:
* More about the book.
* More about the author.
* Buy from Amazon.
Official synopsis:
Ever since junior high and an ill-fated game of seven minutes in heaven, Rikki Eisendrath and Sam Payne have hated each others' guts. But when they end up at the same college—and the same dorm—they figure it's time to declare a truce.
They even become friends . . . sort of. But when Sam asks Rikki to model for his sculpting project, they start spending more time together—and her feelings for him get more complicated.
She tries to focus on the guy she's been crushing on instead. But Sam's the one she can't stop thinking about, even though their arguments are starting to heat up as much as the chemistry between them.
With antagonism and attraction this intense, there's bound to be an explosion. But when the dust settles, will Sam and Rikki be enemies, friends . . . or something more?
Review:
I received a digital copy of this book (via NetGalley) in exchange for an honest review. Thank you, Abigail Strom!
Let's start this off with a small confession, yes? I had the most difficult time finding an excerpt in this book to share. And it wasn't because every scene was quote-worthy or remarkable, but because nothing stood out. Which is similarly how I feel about the story itself. There's nothing significantly unique about this book that distinguishes it from other young adult, romance novels. This is not to say that the writing was terrible or anything! It's just that the plot is hardly original-—bordering on cliché, really-—and as such, it requires a tremendous effort in narration to pull off as something thrilling to read. Sadly, the author was unable to meet the challenge.
The premise of the story was pretty straightforward. The characters were developed at a superficial level, but they were all pretty tolerable. The attempt in creating a love triangle was poorly executed. I had no problem with the writing style, grammar and structure wise. However, as I've said, the storytelling wasn't engaging at all. This book could have reached the next level had it possessed more depth and more compelling narration. At best, the story is passable.
---
Excerpt from the book:
Tamsin shook her head. "You're not going to die. You're going to come back to our room and listen to Adele and the Cure and Joni Mitchell and cry. Tomorrow morning, you're going to listen to Rihanna and Annie Lennoz and Sinead O'Connor and feel pissed off."

"And you think that will make me feel better?"

"It'll be a start. You've just never done this before, Rikki. You've never fallen in love and you've never had your heart broken. You should have gotten it over with in high school. You stayed away from this stuff a long time and now you're in the middle of it. But I swear to God you'll get through it. And the next time it happens—"

"Don't say it gets easier."

"I wasn't going to. But the next time it happens you'll know you can survive it, because you'll already have survived it once."
---
---
Twitter: @bookshelfbitch ‧ Instagram ‧ Goodreads ‧ Bloglovin'