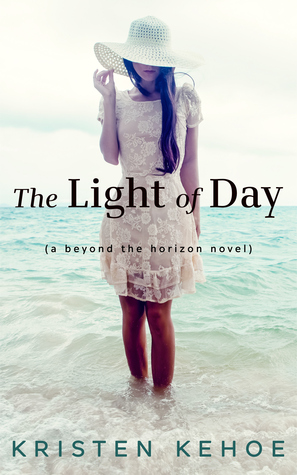 Title: The Light of Day
Author: Kristen Kehoe
Genre: New Adult, Romance
Copy: Digital
Rating:
* More about the book.
* More about the author.
* Purchase via Amazon or The Book Depository.
I received a free digital copy of this book (via NetGalley) in exchange for an honest review.
Thank you, Kristen Kehoe!
The Light of Day is Kehoe's self-published romance novel which tackles dark themes and sensitive content. The story revolves around Cora Whitley and Jake Ferrari – two strangers who met through Cora's cousin and somehow ended up becoming roommates. Right from the start, Jake finds himself effortlessly drawn to Cora and her less than fairytale-like past. Perhaps it's because the two of them share a common trait: they're both broken and haunted by their past.
Cora is a recovering alcoholic who used to toy around with plenty of men in order to distract her from her family problems – which mainly involves her mother – and insecurities. On the other hand, Jake is literally broken in the sense that his injured arm puts his aspirations to become a successful baseball player at a sudden halt, leading him to a slight depression. Certainly, both Cora and Jake are struggling with their own inner demons, and as the story progresses, they rediscover their strength through each other's presence.
Before actually reading, I was expecting one of those typical "I'm broken."/"Let me fix you." kind of novels. However, I was proven wrong. Written in the perspectives of both Cora and Jake, Kehoe succeeded in creating a story that not only portrays an addicting romance but provides insight in rediscovering self-worth and regaining the will to move forward.
The characters are likable enough, in my opinion. I'd have to say that my favorite character is undoubtedly Jake. He's such a refreshing male lead because not only is he athletic but he's also highly intellectual with a penchant for literature. Yes, literature. Additionally, his earnest, no-bullshit personality greatly complemented Cora's distant, fight-or-flight nature. Seriously, it constantly amazed me how patient and understanding Jake is. He's great without coming off as an unrealistically perfect character.
"Blue, it's no secret that I want you, but I also want this. So, let's have this while we can, and when we move to something more, we can rely on the foundation we've built to help us through."

"If we move to something more," I correct him. "I told you, I'm still not sure."

He just grins and reaches around me to open the door. "Just remember, you weren't sure about being my friend but you're the one who just asked me. That's what we call a prologue in literature."
Truthfully, I was slightly let down in the beginning of the novel. The moment Jake lays his eyes on Cora, he's immediately infatuated. A few paragraphs later, they're both internally fighting their inexplicable attraction to each other. Basically, it seemed a lot like instantaneous lust, which I am not particularly fond of. However, the moment Jake and Cora became unlikely companions, it was like the entire dynamic of their relationship made a 180 degree turn and became a raw and engaging romance. I'm fairly certain their relationship both killed me and resurrected me. Multiple times.
I won't verbalize what I feel, but there are words floating around in my head, in my heart, that tell me that whatever she is to me, it's more than anyone else has ever been.
Oh my god. In my opinion, the chemistry between Jake and Cora completely broke the charts. I really, really love the deep level of understanding they had for each other. Also, Jake's thoughts regarding Cora had me squealing and forgetting to breathe a handful of times. The only thing I didn't like was how Cora and everyone else kept referring to Jake as "Handsome Jake". I'm sorry, but it's a pretty stupid nickname, if you ask me.
The only thought worse than never having Cora is having half of her.
… and for a second I wonder if she's always been this beautiful, and if she knows just what kind of punch she packs when she's not even trying.
What I love the most about The Light of Day is the way its story dealt with a number of struggles we frequently face in real life: moving on, letting go, and allowing ourselves to heal. Even more than that, it touched the topic of finding self-worth and overcoming fear. There's a ringing element of truth in this novel, one that gradually creeps onto our shoulder and makes us realize that yes, it's been there all along. In addition to this, I also particularly liked the manner in which Kehoe handled the darker content of the novel such as addiction.
For a while, the hour of oblivion spent inside of someone else seemed worth it, but now I know the truth: the darkness always comes back, no matter how many times we think we can avoid it by ignoring it. We have to work to live in the light, and even then there's no guarantee of forever.
I'm an alcoholic, but really, I only use that label because it's the most straightforward and people need a label to understand other people, especially those people who are different. The reality is that most addicts are more than their substance of choice – alchohol is not my weakness, it's my escape, my crutch to lean on when I don't want to deal with everything that's weighing down on me. My weakness is control, fear, self-loathing, my never-ending need for more. More attention, more things, more fun, more love.
Unfortunately, as much as I enjoyed reading, the story and its plot lagged behind every now and then. Sometimes, the pacing became so slow I was forced to set the book down. To be honest, I think I skimmed through numerous paragraphs. Also, I'm confident that the book could have been better. Still, The Light of Day is worth reading.
Recommended? Yes.
---
Excerpt from the book:
"I get that, just as I get how scary this is for you. But you need to know one thing." He waits until I look at him, and his eyes are blazing and serious as they bore into me. "I've slept with other women – some more than once, some once, some I remember, some I don't. I've had one serious relationship that I thought might be forever, and then I lost everything and I didn't think forever mattered anymore." Now he rests his weight on his right elbow and brings his left hand up to cup my cheek. "Blue, one glance at you all those months ago showed me that I might not be able to see forever, but I definitely want to see tomorrow if you're there."
---
---
Twitter: @bookshelfbitch ‧ Instagram ‧ Goodreads ‧ Bloglovin'