The books for Batch 1 are as follows:
The Lonely Hearts Travel Club: Destination Thailand by Katy Colins
Sever by J.M Miller
Everealm by J.D. Wright
Adulthood is a Myth by Sarah Andersen
Segue: Okay, okay. I know. Chronologically, my next review should be about Forgetting August by J.L. Berg. However, I'm having a hard time with it because I have yet to really wrap my head around the novel's story. I mean, I am a hundred percent certain that I really, really, really enjoyed the book, but the rest of my thoughts are pretty jumbled. I figured I should work on the reviews for these four books instead because 1) it's a lot easier; 2) my opinions on these books are pretty straightforward; 3) I wanted to write down all my thoughts on these books before moving on and picking up another novel to read.
---
Official synopsis:
What if you had a second chance… to find yourself?
Instead of slipping on her something borrowed and tripping up the aisle to wedded bliss, Georgia spends her big day crying into a warm Sex-on-the-Beach, wondering where it all went wrong.
Forced to make a bucket list of her new life goals by her best friend Marie, it's not long before travel-virgin Georgia's packing her bags for a long-haul adventure to Thailand.
Yet, Georgia's big adventure doesn't seem to be going to plan. What with strange sights, smells and falling for every rookie traveler scam in the books, Georgia has never felt more alone.
But the good thing about falling apart is that you can put yourself back together any way you please. And new Georgia might just be someone she can finally be proud of…
This year it is time to find the place where you truly belong…
Review:
I received a free digital copy of this book (via NetGalley) in exchange for an honest review. Thank you, Katy Colins and Carina!
When I requested for this ARC, I was hoping for a quick, lighthearted read. Unfortunately, I couldn't bring myself to finish this. According to my Kindle, I was only able to read a measly 8% of the book, making Destination Thailand my first unfinished read of 2016. I was very surprised when I found myself having zero – wait no, more like a negative integer – willpower to keep going. Especially when I was only at the beginning of the novel.
I think I was put off by the novel partly because the digital copy I received (.ePub) was formatted in such way that it was pretty inconvenient to read. Mainly, however, I was disheartened by the manner in which the story was written. The author's writing style greatly reminded me of, to put it bluntly, half-assed fanfiction with a very whiny female character. Okay, that sounded really mean, but I honestly don't think even my thirteen year old self would completely read this.
Perhaps this is one of those "it's not you, it's me" instances. Perhaps it isn't. Regardless, I am not telling anyone to steer clear of this book as I barely went through the story's actual content. However, I am definitely not recommending this book either.
---
---

Title: Sever
Author: J.M. Miller
Genre: New Adult, Suspense, Romance
Copy: Digital
Rating:
* More about the book.
* More about the author.
* Purchase via Amazon or The Book Depository.
Official synopsis:
One simple decision can end a future.
One simple persuasion can sever a life.
The moment Annisyn Kane slips her rake pick into the lock of a stranger's door, the straight life she's led the last few years is scratched out. In the past, the goal was never theft. It was to escape. From life. From death. To quiet the dreams that replayed an affliction she longed to forget. This night, though, was different. She was out of options.
The isolated house was supposed to be an easy target. In and out. No problems. But the simple job takes a twisted turn when Annisyn comes face to face with the only real love she ever had.
Five years ago, she could have persuaded Damian Mead to stay. She wasn't willing to be the end of his future, so she let him go. Before the emotions from their tangled past have a chance to spin between them, Annisyn discovers that their startling encounter is the least of the night's problems. There's someone else in the house, and the only thing on his mind is revenge.
Review:
I received a free digital copy of this book (via NetGalley) in exchange for an honest review. Thank you, J.M. Miller!
I am not well-versed in stories with intensely dark undertones and sensitive content (i.e. rape, abuse, murder, self-harm). This is likely due to the fact that for several years, I tried to avoid them. However, I am immensely glad that I picked up Miller's Sever because I highly enjoyed reading it. Seriously, this is a brilliant read. I just couldn't put the damn thing down. Truthfully, there are so many intriguing elements to this book, and there are a lot of thoughts and things I'd like to discuss. And maybe a few points that I think could be improved in the book. However, as mentioned earlier, I am not well-versed in this genre and as such, I don't think I'm the right person to elaborate on the details. That would make me feel like I'm pretending to be an expert on something I don't completely understand. Which would explain why I decided to give Sever a mini review instead.
If I were to describe this novel in one word, I think the best-suited answer would be intricate. It fascinates me how detail-oriented Miller was in writing this story. Everything – every element, every character, every detail mentioned – had a purpose. The plot was an intricate web of events, where each thread spun had a significant bearing to the story. The characters were developed intricately, allowing them to appear complex and three-dimensional. It was really brilliant. (Okay, I'm pretty sure I used that word plenty of times in describing this book.) Really, the story was so – excuse my white girl – on point and well thought of. Or maybe it's just my inexperience talking. Whatever. When all the dots were finally connected by the end of the book, I was seriously blown away and left speechless.
Furthermore, Miller's writing style kept me engaged and craving for more all throughout the story. The story was told in both past (where Syn and Damian's relationship blossomed into love) and present (where Syn and Damian were at each other's throats) times. Specifically, a chapter of the current circumstances is followed by a chapter from Damian and Syn's past and the pattern continues. In my opinion, that is a difficult feat to accomplish without creating a choppy, inconsistent flow. But Miller definitely nailed it. I found myself falling in love and bracing myself for the worst simultaneously. Certainly, while the dark undertone of the story chilled me to the bone, the love story of Syn and Damian had a firm, unyielding grip on my heart.
In summary, if you're looking for a book that will keep you at the edge of your seat (or in my case, the bed), I'd recommend Sever.
---
Excerpt from the book:
"You okay?" Damian shifted beside me, rubbing his arm against mine in the process. The binds at our elbows were now tied together and secured to the lowest wood railing of the stairs.

I wiggled my arms, but there was very little room to move. Looking down at the material connecting our ankles, I wondered if there was another way to get free. "Aside from the headache, yeah. You?"

Damian didn't look at me. His eyes remained forward, staring blankly off toward the kitchen. We were farther from the light, but I could still see each of his features: the eyes that would look at me like I was the only other person alive, the thin nose that would brush my skin whenever he kissed the back of my neck, the plump lower lip that he'd sometimes bite when I dug my fingernails into his back.

He nodded. "I'm fine. Now, are you gonna tell me what you're doing in my house?"

Great. There was no easy way to answer. It was probably best to just say it. "I broke in."

He exhaled a puff of air and shook his head. "Of course you did."
---
---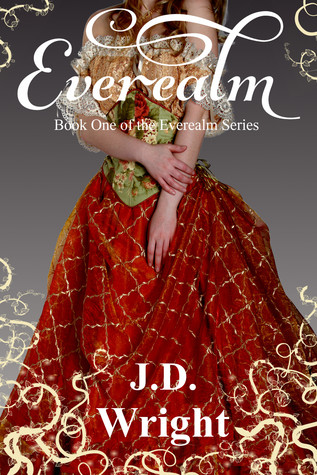 Title: Everealm
Author: J.D. Wright
Genre: Young Adult, Fantasy, Romance
Copy: Digital
Rating:
* More about the book.
* More about the author.
* Purchase via Amazon or The Book Depository.
Official synopsis:
Breestlin cannot escape her destiny to become ruler of her father's kingdom, but she never planned to become queen at twenty-three years of age. Upon the return of her first love, Rowan, Bree must quickly learn how to adapt to both her new responsibilities as a ruler and her inability to suppress her feelings for Rowan. To make matters more difficult, her outcast uncle, Silas, will stop at nothing to get what he desires, putting lives and the kingdom in danger. Bree must seek the assistance of the wizard, Dagan, who in a twist of fate discovers much more about his family (and himself) than he could ever imagine in this steamy love story, full of mystery and romance…
Danger awaits, as we journey through Everealm, the first book of the Everealm Series.
Adult content. Intended for mature audiences.
Review:
I received a free digital copy of this book (via NetGalley) in exchange for an honest review. Thank you, J.D. Wright!
Before anything else, let me just confess that I initially read Breestlin's name as "Breastlin." Yes. Breast. Lin. You read that right.
To be honest, third person omniscient point of view is a hit-or-miss kind of deal with me. I slightly prefer first person POVs because reading in first person feels like somehow being in the mind of the character, making the experience all the more intimate and personal. Additionally, using this sort of POV draws the attention and focus towards a specific character, typically the story's hero or heroine. Regardless, I liked how Wright incorporated the third person POV in her narrative.
To put it crudely, a lot of shit goes down in Everealm. It was kind of like a watered down, tamer and less violent Game of Thrones. Every chapter is pretty much a different scene in a different setting. The story was an intriguing concoction of fantasy, magic, romance, adventure and sex. (Plenty of sex, really. Too much sex, perhaps. I don't really know.) So many things were transpiring and so many events were taking place – it was kind of dizzying, but in a way that made me want to grab a sword, direct its tip towards the apple of my opponent's throat, and say, "Continue."
Unfortunately, Everealm was leaps and bounds behind the awesomeness that is Game of Thrones. The book certainly isn't as good as the TV series. Okay, before I continue this review, let me add a disclaimer: I'm not suggesting that the book has the same plot as Game of Thrones or the books the show is supposedly based on. The novel simply reminded me of the vibes I get when watching the show. For one thing, Everealm is a lot more high fantasy – what with the magic and wizards and all. Also, hey, no heartbreaking, gruesome character deaths!
In my opinion, the novel isn't as refined as it should be. I was distracted every now and then by overlooked grammatical and typographical errors. Sometimes, the writing itself felt flat and awkward, particularly in terms of dialogue. Certainly, numerous improvements could be implemented in the book. In addition to all of this, I probably would have enjoyed this book a lot more if the story had significantly more action and conflict. I wanted blood on floors and duels to the death and people getting beheaded and possibly anything remotely close to trial by combat. I think it would have been better if the author put a greater focus on the actual adventure rather than simply the romance between couples.
---
Excerpt from the book:
"You know exactly what I mean. A queen has responsibilities to her family, to her kingdom. To carry on the royal bloodline. If I were to behave irresponsibly, your virtue could be challenged, causing rumors that your innocence had been soiled."

"Ha! Isn't it a little late for that?" she replied, casually, then she felt his body become tense. Surprised, she looked up to see an expression on his face that she had never seen before. He looked hurt like her words had pained him.

"Rowan," she began, but he shook his head. They remained silent for a while as they traveled around the floor, following the lead of the other couples.

"Bree, you don't understand the guilt I have felt for so many years, for what I did to you."

"What you did to me?" Bree could feel her blood starting to boil.

"Yes. What I did to you. I took advantage of you, of your softness for me. And it could have ruined you forever."

"I am ruined forever." Her reply made him freeze. They stopped moving in the middle of the floor while the other couples continued dancing around them.
---
---

Title: Adulthood is a Myth
Author: Sarah Andersen
Genre: Humor, Comics, Graphic Novel
Copy: Digital
Rating:
* More about the book.
* More about the author.
* Purchase via Amazon or The Book Depository.
Review:
I received a free digital copy of this book (via NetGalley) in exchange for an honest review. This is definitely a ridiculously adorable book. As someone who will be turning twenty later this year (oh god, I can't even imagine it), I found it extremely easy to relate to the book's content. Although the message was delivered in a lighthearted, kind of silly manner, there's definitely a vestige of truth underlying every drawing. An incredibly fun book!
---
---
Twitter: @bookshelfbitch ‧ Instagram ‧ Goodreads ‧ Bloglovin'