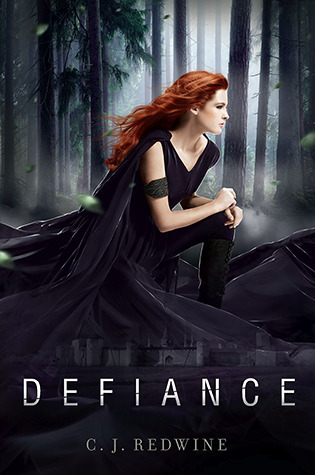 Title: Defiance
Author: C.J. Redwine
Genre: Young Adult, Science Fiction, Fantasy, Romance
Copy: Paperback
Rating:
* More about the book.
* More about the author.
* Purchase via Amazon or The Book Depository.
Set in a post-apocalyptic world where the citizens of Baalboden cower at the mere thought of the Cursed One, a wingless dragon-like monster who looms outside the walls of their city-state, the story begins with Rachel Adams's grief over her father. Having failed to return from a courier mission, Jared Adams is deemed dead by the city's disciplinarian Commander. As written in Jared's will, Rachel is then assigned under the Protectorship of his young apprentice, Logan McEntire, whom she has loathed for the past two years ever since he rejected her by giving back the heart she offered.
However, the two form an unlikely camaraderie as they share the same unwavering belief in Jared's survival outside the walled city-state, in the Wasteland where the Cursed One roams free. Because of this, Logan and Rachel set out on a nearly suicidal quest to search for him themselves, determined to find answers and more importantly, the truth behind his absence.
This is actually my second time to finish this book. I first read Defiance back in December 2012 when I received the book as a Christmas present from one of my classmates. After finishing Defiance, I immediately started reading Julie Kagawa's The Iron King and ended up almost literally devouring all four books of the series. Needless to say, I fell in love with Kagawa's work and pretty much forgot to write a review for Redwine's Defiance. Oops.
Anyway, I am both happy and sad that I decided to reread this book, making it my first book for 2016. Happy because there is no denying that the adventures of Rachel and Logan make a pretty great story. Sad because the story is significantly different from what I remember, and what's even worse is the fact that I didn't enjoy reading this novel as much as I did the first time.
A set of likable characters, but an unlikable heroine. Personally, my favorite character is definitely Logan McEntire simply because he's brilliant beyond words and I really, really enjoyed how his character developed throughout the book. From someone indifferent and easily irritable in the beginning to a man who isn't afraid to feel and to fight for what he's passionate about. However, Rachel Adams is definitely the most interesting character to discuss.
He treats me to one of his wide, gentle smiles, his dark eyes shining. "Who else am I going to spend my money on? I already know you won't let me buy you any of the pretty, frilly things girls your age like to have, and I'm not about to purchase another weapon to add to your collection."

"Because I don't like pretty, frilly things. And there's nothing wrong with having a nice collection of weapons."
Right from the beginning, Rachel is quickly introduced as a fiercely independent, rebellious female lead. From her spitfire personality, it's quite obvious that the book is aptly named. I really tried to like her, I swear. And at first, I sort of did. At first, she seemed like the epitome of being defiant and badass. Gradually, however, she started grating on my nerves. There was no positive development in her character throughout the story whatsoever. Whatever the antonym for character growth is, that's what happened with Rachel. The more chapters I read, the more immature and impulsive she became. Rachel was no longer just being defiant; she was being absolutely reckless and continued to ignore logical reasoning.
Towards the middle of the book, Rachel was practically consumed by her thirst for revenge against the Commander. To be fair, it is kind of understandable given everything she went through and all her loss and whatnot. But god, Rachel girl, you are so difficult to deal with! Pull yourself together. Still, a number of her actions were inexcusable.
I liked the rest of the characters. Even the Commander. Well, I don't think "like" is the right term. It's more like I respected him as a villain. Also, I have a quaint soft spot for Willow who was highly entertaining as a supporting character.
I step forward. "Willow has a point."

"Willow needs to learn to share only those observations that others ask her to share." Quinn steps forward as well.

Willow shrugs and shoulders her bow. "I got tired of tiptoeing around the obvious." She winks at me. "How much time do you need to kiss her senseless?"
The depicted patriarchy in the book. Just by the book's blurb (i.e. "While the other girls in Baalboden sew dresses and obey their male Protectors…"), it was inevitable that the book would hint at sexism. The foundation of Baalboden's society, especially its Protectorship law, is built entirely on the idea that women are physically incapable of defending themselves. The education system of their civilization prevents female students from learning anything other than sewing, party planning and demonstrating ladylike etiquette.
I never thought it was fair that anatomy decided what my brain was fit for. Dad agreed, and I'd soaked up everything he could teach me. Once, I'd tried to teach Sylph the wonders of being able to open a book and understand the words inside, but she'd shrugged it off. She didn't need to read. She'd have a Protector for that.
As great as it was that Redwine created Rachel in such way that her character defied all the perceived notions of women, I was taken aback by how blatant the patriarchy and discrimination towards women was. I don't mean this as a bad thing, though, as I'm sure that this was totally the intention of the author. In fact, I admire Redwine for incorporating it as an obvious flaw in her story. Really, reading about Baalboden's society and seeing how most of the women within its walls were constantly put down – it was quite interesting and downright haunting. It left me with a lot of mixed feelings.
Romance between Logan and Rachel. I think the relationship between Logan and Rachel could have been developed better, but truthfully, I wouldn't want it any other way. I really enjoyed reading about the two of them and the way the relationship between them blossomed. In my opinion, Logan and Rachel are not a perfect match. Towards the end of the story, Logan overlooked Rachel's shortcomings too often for my taste. However, I think the imperfection in their relationship is what makes it all the more fascinating to read about. I mean, I greatly enjoyed the love story in spite of the flaws.
Not the way I thought I was two years ago, when I offered him my heart. That love was uncomplicated and innocent, designed for a simple life. The love consuming me now is fierce and absolute—forged in a crucible of loss and united by our shared strength.
Everything else. The world-building wasn't greatly elaborated, but I think what was provided in the story is sufficient as it is. The novel moved at a gradual pace but I really didn't mind at all. This is more of high fantasy tale rather than a simple post-apocalyptic one. There's no doubt that C.J. Redwine has seriously terrific writing skills. There's a poetic lilt and honest edge in the lines she uses to weave her story. Although I did not enjoy my second read as much as the first, I am definitely looking forward to the second installment. Still a solid, well-written story.
Recommended? Definitely.
---
Excerpt from the book:
"It's a Celtic knot. The same design I burned into the cuff I just gave you. It symbolizes eternity. The stone is a black sapphire, which symbolizes faithfulness." I reach out and trace my finger over the pendant.

She looks at my finger, and then back at me, and a tiny tremble goes through her.

"It means" – I lean closer and will my words to take root within her – "I will always find you. I will always protect you. I won't let you down. I promise."
---
---
Twitter: @bookshelfbitch ‧ Instagram ‧ Goodreads ‧ Bloglovin'