Before anything else,
HAPPY NEW YEAR TO YOU AND YOUR LOVED ONES! 😊🎉🎊
For a brief moment, let's disregard the fact that here in the Philippines, it is already the 2nd of January 2016. Like that's relevant. I mean, it is never too late to wish everyone a wonderful and prosperous year ahead, right? Right! Anyway, let's move on to the main objective of this post.
Now, if you actually took the time to do a little stalking here (hint: 'About' page), you would know that I created this blog last December 17, 2015. I don't want to bore you with the details of why I thought this would be a good idea or how I came up with my blog's name (I'm pretty fond of it, to be completely honest) because those things aren't actually relevant to what I'm about to say next: Before 2015 ended, my blog, That Bookshelf Bitch, hit its 2nd week!
Let me repeat myself. I've been blogging for two weeks (excluding January 1 and today)! It probably isn't a huge milestone or anything, but it certainly feels that way to me! It's probably because, before all of this, I knew next to nothing about book blogging. In fact, I'm an amateur blogger (and not to mention reviewer and writer) in general. I honestly did not allow myself to set any expectations because well, I wasn't even sure what to anticipate in the first place. However, this experience has been incredible and wonderfully overwhelming so far!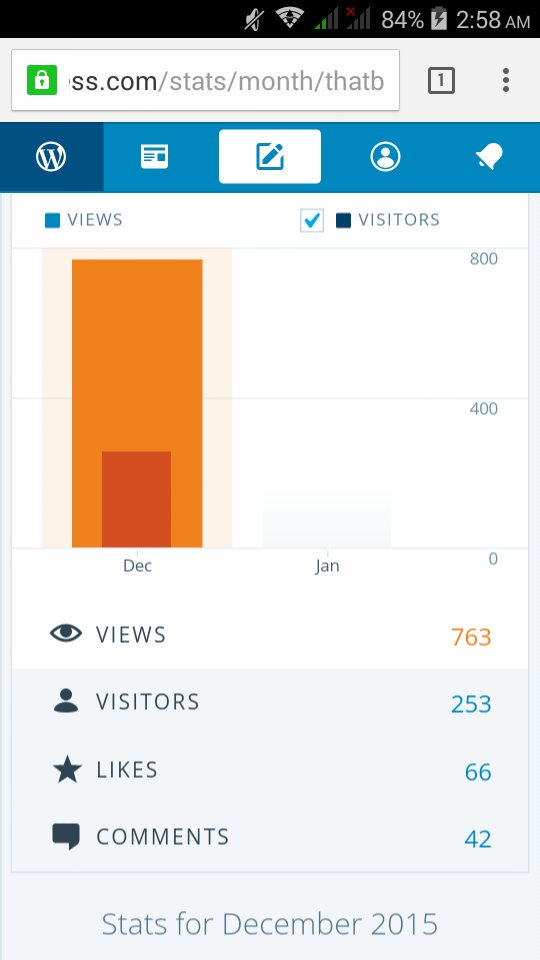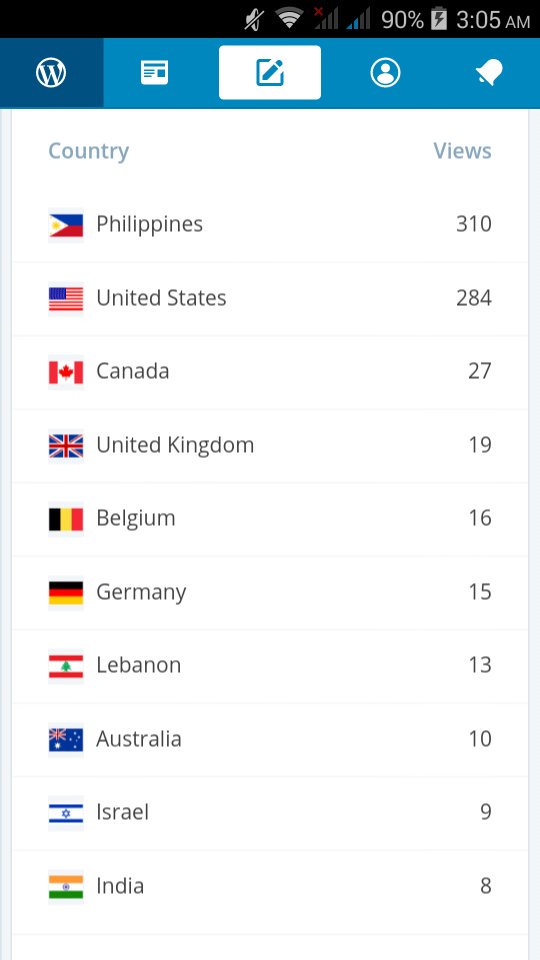 (Screenshots taken at 3:05 AM of January 1, 2016)
The images are pretty self-explanatory, yes? They're basically a summary of the blog's traffic throughout its first two weeks of existence.
To put everything bluntly, thank you! I am so immensely grateful to everyone who took the time to read what I've written and posted. Oh em, I really don't know where to begin.
Thank you to Bea @ Confessions of a Pinay Bookaholic for indirectly putting the idea of running a blog dedicated to books in my head. You're certainly responsible for jump-starting my interest in blogging in the first place.
Thank you to my too-amazing-for-words friends who have supported me in all my writing-related endeavors for as long as I can remember. I want to personally thank all of you for being ridiculously patient with me as I am deathly insecure about my writing and I tend to depreciate whatever it is I do often. Thank you so abundantly much for never giving up on me, for encouraging me to leave my comfort zone and shatter its limits completely, and for remaining a hundred percent supportive no matter what. I specifically want to thank Jan, Kat and Sab (oh cool, all of your nicknames consist of three letters) for being my biggest supporters of all time. Oh em, you guys are the best!
Thank you, to the entire book blogging community! Everyone has been very welcoming and friendly to me so far. It's really great to meet so many people with the same passion. Insert shout out for all fellow Filipino book bloggers here (seriously, you're all awesome!!!). Thank you, Nori @ ReadWriteLove28 for hosting the first Twitter book discussion I've ever participated in and for being one of the most approachable bloggers I've encountered so far. Thank you as well to all my new blogger friends! I want to specifically mention the following lovely people: Shea @ bookishwanderlust, Melanie @ MNBernardBooks (thanks for the tips!), Nikka @ Adventures of Nikka and Anthony @ aVeryAwkwardBlog (you're fabulous, bruh).
Thank you to all the authors, publishers and marketing agents who emailed me and contacted me! I'm still overwhelmed that these things actually happened.
Thank you for every like, for every comment, for every visit! I didn't think I'd reach 763 views, 253 visitors, 66 likes and 42 comments in just 14 short days! What else is there to say? Thank you, thank you, thank you!!!
I am really, really excited to continue this new project. Hopefully, I'll be able to do a number of interesting, really awesome things this 2016. Oh speaking of, I intend to post something significantly different soon. I've been working on it since 2 AM, and I'm both nervous and excited to share it with all of you! I'm crossing my fingers that you'd appreciate it.
Here's to more book reviews, more discussions, more friends and more interesting things! And excuse the haphazard writing style of this post. It's 4 AM and I'm pretty sleepy. Again, thank you for everything so far!
P.S. If you're still a faithful stalker of this blog (i.e. you always drop by), stop being a stranger and follow this blog via email! I swear I won't spam your inbox 24/7. And I'd really, really appreciate it.
​
Twitter: @bookshelfbitch ‧ Instagram ‧ Goodreads ‧ Bloglovin'